Analysis
Poverty a potential source of unrest – new report reveals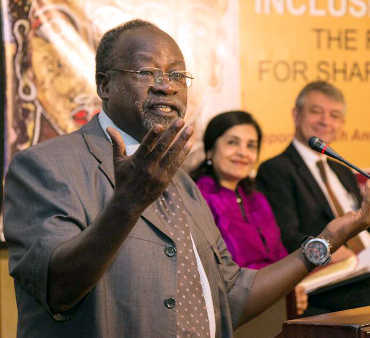 Titled: Inclusion Matters; The Foundation for a Shared Prosperity, has been dubbed as the World Bank's first major report on social inclusion, a term that has gained currency in recent times to describe poverty or other circumstances that render people unable to meaningfully participate in broader social economic activities.
Speaking at its launch at Sheraton Hotel in Kampala, lead author Maitreyi Bordia Das said that there is a major problem in designing or permitting policies and conditions that deprive sections of the population.
Maitreyi said that in many countries excluded people have organised strikes to right wrongs and seek justice.
"These newly active citizens include victims of violence who are demanding justice, or members of growing middle classes demanding greater voice in their countries political processes," says World Bank President Jim Yong Kim in a Forward to the book.  
Authors argue that Social Inclusion goes beyond poverty to uncovering its causes.
"It asks questions as why certain groups are overrepresented among the poor and why some people lack access to education, health and other services or receive poor-quality services," the report adds that, individuals or groups are excluded or included because of their gender, race, caste, ethnicity, religion and disability status.
Exclusion based on those identities, the report notes, is often associated with lower incomes, poor access to jobs and services and a voice in national and local decision making.
The report cites recent mass protests such as the Occupy Wall Street movement held two years ago in New York, the workers' strikes in Brazil and the Arab Spring that caused widespread political unrest in the country as outcomes of social exclusion.
The World Bank Country Manager for Uganda Moustapha Ndiaye said that Uganda needs to embrace lessons from the book by ensuring that it designs policies that benefit as more people as possible.
The report cites the uneven distribution of electricity and clean water in Uganda as examples of social exclusion. The report shows that some people like the Lugbara in West Nile, are victims of exclusion because only about 5% of them have access to water and electricity, compared to about 50% in Buganda.
However, while the book was appreciated as a noble step to remind policy makers of the need to 'leave no one behind', it has been challenged as an futile attempt at altruism.
Prof. Tarsis Kabwegyere, the Minister for General Duties in the Office of the Prime Minister said that mankind has time immemorial lived in a stratified and unequal life.
Kabwegrere attributed social exclusion to imbalances in power relations among individuals in a society. "To me inclusion is a question of power. It is a question of who has what, why and how,"said Kabwegyere.
On the other hand, Charles Ocici, the Proprietor of Enterprise Uganda, linked social exclusion to individuals' inability to conceive and pursue opportunities.
Ocici told a story of a poor woman who rose from a small molokoni seller with capital of Ushs 8000 into a major fish exporter to South Sudan now worth Ushs 25m.  Ocici dismissed arguments that there are systemic barriers that lock out some people from tapping opportunities.
Ocici said people fail to achieve bigger things because they believe they cannot succeed.
He said: "This world is about choice and competition. Competition has brought down boundaries in the economic and social spheres," He added: "The door to economic success has no key. The difference is in entrepreneurship."
The report however pay little attention if any, to social exclusion in the international domain. In a world where national borders are fast coming down through globalisation, and where policies are being made at regional and international levels, the world bank appears to have ignored the crucial role played by global players like multinational companies, countries NGOs in creating exclusion.
At the global level, focus has been mostly about barriers to trade in goods and services as well as in the area of climate change where the developed world remains adamant to create a level playing field for meaningful participation in the global economy.
Comments
comments