News
Gen Sejusa returns to Uganda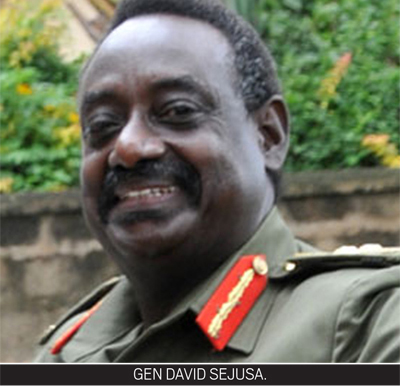 Former coordinator of intelligence services, has Sunday morning landed at Entebbe Airport aboard British Airways from the UK where he had been for almost a year in exile.
Gen Sejusa, popularly known as Tinyefuza, landed at the airport at 3:30 and was received by family members and the director general of Internal Security Organisation (ISO), Brig Ronnie Balya.
The Gen had fled Uganda after authoring a letter in which he accused key government elements of planning to kill leaders who had been perceived to oppose the "Muhoozi Project".
He has been living in the UK since 2013.
The letter, which leaked to the press had been written to Brig Balya directing him to conduct an investigation into allegation that Inspector General of Police Kale Kayihura, and Gen Salim Saleh, Museveni's young brother had been planning to kill some government leaders including Gen Sejusa, Gen Aronda Nyakairima, Internal Affairs minister and former Prime Minister, Amama Mbabazi.
It is not yet clear whether Gen Sejusa will be charged with any crimes but highly placed government and military sources say the general returned after a negotiation with government officials.
Government spokesperson Ofwono Opondo confirmed on his twitter handle Gen Sejusa's return saying he had landed at the airport by about 3am. He also said "he was a free man".
This morning close sources said Gen Sejusa had travelled to his country home in Sembabule District.
The unexpected return, especially when the NRM is conducting its delegates' conference will be cause for speculation, especially at a time when the party is trying to oust Mbabazi from the party's secretary general position.
Comments
comments