Business
Heifer recipients in northern Uganda advised on care
Some 28 households in Gulu district this week received heifer (milk producing) cattle from government under the Operation Wealth Creation Programe. For the beneficiaries, had a reason to smile following years of waiting.
The recipients expressed hope that the heifers will improve their lives, help them educate their children as well as help them to live more descent lives in their old age.
The 16 sub counties to benefit from three heifers include: Awach,  Bar-dege, Bobi, Bungatira, Koro, Lakwana, Laroo, Layibi, Paicho, Palaro, Ongako, Patiko, Pece and Unyama. Some of the sub counties are in the new Omoro District.
Operation Wealth Creation (OWC), which was launched by President Museveni in July 2013, is an outfit of the Uganda People's Defense Forces (UPDF) that is currently distributing agricultural inputs and livestock purchased by the government under the National Agricultural Advisory Services (NAADS).
While handing over the heifers to the beneficiaries from the Resident District Commissioner Gulu premises, Lt Col Obwot Olwa, Gulu district Operation Wealth Creation told them to handle the heifers as members of their family and treat them well so that they can realize better results from their products.
"If you take this animal, make it part of your family and feed it well because it is going to give you what you want," Lt Col. Olwa told the beneficiaries from Gulu municipality.
The 28 heifers are a third batch of cattle to be distributed to beneficiaries with 12 having been distributed in the 4 divisions of Bardege, Layibi, Pece and Laroo which make up the municipality.
Joyce Yulin Akech, 65, from Pageya parish in Bungatira Sub County, who was one of the beneficiaries of the heifer donation expressed happiness at the donation following two years of waiting.
Akech, a mother of seven, said she hopes to use the money from selling milk to educate her children.
"This heifer is going to help me solve some of my problems. Some of my children died in the LRA war and I am taking care of my grandchildren plus mine.
So if I sell the milk from this cow, I can get some money to meet the needs of these children," said Akech.
Alice Paklaki, 59, from Pece Pawel Parish in Pece Division and a trained diary farmer, advised the new beneficiaries to learn from each other including how to feed the cows, if they want to get the best results.
"There is a certain type of grass that we were taught to plant. I don't know its name but whenever I fed the cows on it, would get over 10 liters of milk per day. It became my job to feed the cow well and make sure it is comfortable in the kraal as well," says Paklaki,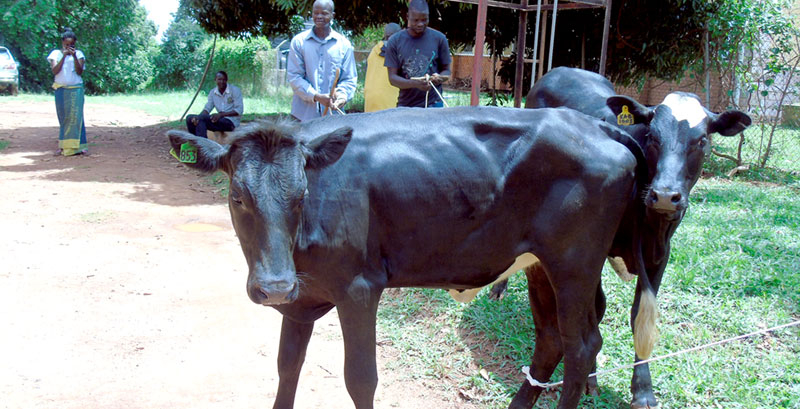 "Dairy farmers need to join the association because we have many challenges in caring for these cattle but if we are together, we can easily get assistance to save our animals from dying," she added.
Martin Ochieng Araa, 70, a beneficiary from Pece Cubu is a retired Game Officer at Murchison Falls National Park and other parks around the country.
Ochieng has been keeping wild life for over thirty years. He faces a new challenge of caring for his new heifer for the first time as a dairy farmer after a brief training from Gulu District Veterinary office. Ochieng however says he's not intimidated by the new challenge.
"I got some brief training but I have no experience in keeping dairy cattle. I fear for diseases because I don't know how it will be and how I will manage it," Ochieng noted however that the cow is his retirement package and would therefore will try to make the best out of it.
"It is a retirement package for me because there is little I can do at my age now. I appreciate the program. I wish all people could take it as their own animal now so that they can benefit from its products," said Ochieng.
According to Gulu district OWC district coordinator Lt Col Obwot Olwa, the responsibility of caring for the heifers including veterinary services solely lies on the beneficiaries.
"If the animals are sick, they have to pull money out of their pockets because this animal is the money government is giving them," said Olwa.
The ongoing distribution of heifers, coffee, fruit trees and other inputs are yet another direct intervention by the government to try to trigger economic transformation of majority of the population that still languish in poverty.
The NRM government aims to move the country into a middle-income status bracket through increased agricultural production. The government for example aims to boost coffee production from the current 4 million bags of coffee to 20m by the year 2020.
Comments
comments