News
US's deadliest shooting leaves 50 dead, more than 400 injured
At least 50 people were killed Sunday night and more than 400 injured at a Country Music Concert in Las Vegas, Nevada, United States in the deadliest gun-related violence in the country's history.
The New York Times online reported that the gunman opened rapid fire on a huge outdoor concert festival on Sunday night, sending thousands of people fleeing until SWAT units found and killed him.
The attack took place outside the Mandalay Bay Resort and Casino where country singer Jason Aldean was performing. Police said that although the gunman had no previous criminal record, they were yet to find his motivation the shooting.
Police identified the gunman as Stephen Paddock, 64 and was killed. The suspect was allegedly working with "a companion" named Marilou Danley, and the authorities later said they were "confident" they had located her.
But even as the nation was still trying to come to terms with the horrific attack, President Donald Trump sent out a bizarre tweet to condole relatives of victims using inappropriate language.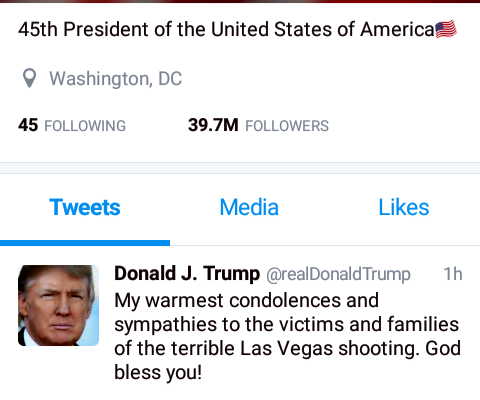 Trump wrote: "My warmest condolences and sympathies to the victims and families of the terrible Las Vegas Shooting. God Bless You."
The latest Las Vegas Concert attack is the deadliest mass shooting in history, according to media reports.
Previously, the deadliest mass shooting had been an attack at an Orlando, Florida, nightclub that killed 49. Before that, the deadliest shooting in the U.S. was the 2007 attack at Virginia Tech, in which a student killed 32 people before killing himself.
Comments
comments