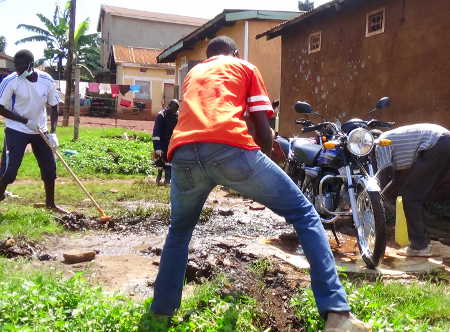 The Kabaka exalted the virtues of Bulungibwansi as a tradition upon which Buganda was built. He asked his subjects to re-embrace community work to build and maintain social services for better lives.
Evidence however suggests that the Kabaka and his subordinate leadership in Buganda kingdom or indeed at several other levels of leadership in the country, have a big task at hand of re-instilling the virtues of this once glorious tradition.
For generations, a form of community self governance, ensured that communities had access to good roads, clean water and secure environments. By binding individuals to social goods and customs, the initiators of Bulungibwansi knew that life was not only enjoyable but also sustainable when everyone participates in a common cause.
It could be argued that the spirit of doing good for the community created a powerful force that developed Buganda into one of the best nations in the region much to the envy of colonialists.
Because, apart from building and maintaining social amenities, it spread into other realms such as security where people  relied on community for help through sounding and responding to Gwangamujje, to fend off attacks by wild animals or individuals.
Years of westernisation witnessed in pre and post-independence Uganda have gradually eroded the country of those great virtues and replaced them with individualism, selfishness and greed.
Fortunately, Kabaka's renewed crusade while proving difficult, is not a insurmountable, Katikkiro Charles Peter Mayiga's courageous reign has proved so far. Over the past two years, Kabaka's dream of a resurrecting Bulungibwansi has received moral support and role models from here and abroad.
A number of people have realised the urgency of rekindling the spirit of community work among Ugandans as one of the best ways to restore dilapidated roads, improve sanitation and other social services.
The Embassy of South Korea in Uganda has held demonstration exercises for Bulungibwansi in several parts of Kampala and Wakiso over the past two years to show that indeed homes together with communities create the necessary link and essential first step to development.
Led by Ambassador Park Jong Dae, the embassy of Korea has been promoting the spirit of Bulungibwansi and showing how – a similar version of this ideology known as Saemaul Undong, helped to transform their country from a poor country to become one of the best countries in the world.
A fortnight ago, Ambassador Park led a group of people under the Saemaul Undong Uganda chapter to clean filthy drainage channels in the poor neighbourhood of Naguru Godown village, along with Nakawa mayor Ben Kalumba.
As the two leaders descended into the trenches to scoop silt and pick polythene bags, a number of women were heard whispering with amazement about the symbolic gesture that was on display.
Standing close by a group of women who had been mobilised to take part in cleaning the local health centre and market, this reporter heard one woman rally her colleagues: "Seeing someone as important as an ambassador go into the trench to pick rubbish for our health centre should be a source of shame for us. How can someone from outside come here to clean for us?"she wondered.
Indeed, many women especially got out of their sharks to join the Ambassador in his demonstration. Many however, it emerged, had turned up with sinister motives as they disappeared with spades and rakes that had been borrowed from Saemaul Undong chapter in Nsangi.
Others threw all care to the wind and simply went on with their personal concerns such as washing boda bodas or attending to their stalls in the market.
The prevailing contrast between the sense of magnanimity as illustrated by Ambassador Park and the aloofness on the part of some mindless residents, highlights the challenge of leadership in transforming the community to change the mindsets of communities so as to realise the lost glory embedded in Bulungibwansi.
Ambassador Park cited many benefits of Bulungibwansi, but poignant was the fact that Bulungibwansi can save a lot of scarce public resources that is spent in supporting social services, besides ensuring that social services function and keep community members happy.
Those who are familiar with the Saemaul Undong movement in Korea attest to its marvellous successes under the strict reign of President Geun-hye Park
David Kintu, the current Deputy Chief Administrative Officer of Sembabule, is one of those who studied the Saemaul Undong philosophy and witnesses that the spirit of community well being is still alive to date.
"Under President Park, parish chiefs conducted daily community meetings and mothers clubs that formed the bedrock of mobilisation which saw everyone involved," Kintu adds: "In Korea, everybody, from the President to children, were involved in cleaning and doing something for community. The particular involvement of children was seen as essential in inculcating the spirit of community work among the people."
Previous attempts by Kampala Capital City Authority (KCCA) to re-introduce Bulungibwansi in Kampala every last Saturday of the month have suffered still birth.
But the power of cultural institutions in propagating and promoting socially beneficial ideologies has proved successful in Buganda already. For example, Kabaka's declaration a few years ago that every man heading for cultural marriage ceremony (Kwanjula) takes a tree as a symbol of the need for environmental preservation, has taken root across the Kingdom.
Lending corresponding gusto and leadership to the cause of Bulungibwansi by cultural heads has the potential to make a difference.
Comments
comments