Business
Lion Assurance, partners unveil first-ever agriculture insurance product (6)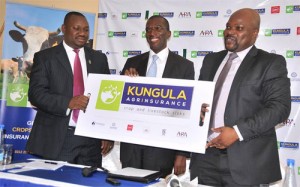 KAMPALA. June 27, Uganda's population is growing rapidly, there is increasing demand for agriculture products, and higher investments in the sector are needed. "Therefore, insurance facilitates easier access to finance, protects finance institutions and farmers against unforeseeable weather losses, " he added.
Kungula Agrinsurance, comes in two packages including; Livestock All Risks Mortality (ARM) Insurance and Crop Indexed Insurance. To access the Livestock ARM Insurance, Jazire said, farmers and investors in Agribusiness are required to pay a premium of 2% to any of the participating insurance companies while financial institutions' premiums are included as part of the loan package.
The other, Crop Indexed Insurance, which is the latest form of insurance, covers crop and pasture losses due to drought and excessive rainfall and attracts a premium of between 2-5%," he added.
He thanked aBi TRUST, who have been a great partner in the development and implementation of the new product. "Not only have they given us invaluable advice but also extended financial support towards the establishment and operationalisation of this product," he said.
Together with aBi Trust, a multi-donor entity devoted to private sector agribusiness development, the insurance players, led by Lion Assurance, have invested more than Shs350 million to ensure that Kungula Agrinsurance is made available to farmers.
aBi Trust was founded jointly by the governments of Denmark and Uganda and started operations in 2010.
Mr Peter Patel Ochiengs, the chief manager Financial services Development at aBi Trust, said the call to the partnership follows the realisation that the agriculture sector has for a long time been neglected by players in the insurance industry because of the risks associated with it.
"As a development partner on this initiative, aBi Trust has invested over shs200 million to finance research, development and roll out of Kungula Agrinsurance product in Uganda which is in line with our vision," Mr Ochiengs said.
He thanked the government of Uganda for its varied efforts geared at fostering agricultural development, adding that aBi Trust will continue to pursue partnerships such as this to spur innovative solutions for the sector.
Mr Ibrahim Kaddunnabi the executive director Insurance Regulatory Authority, commended Lion Assurance and its partners for developing Kungula Agrinsurance, saying agriculture possesses a lot of potential for insurance firms in Uganda.
Mr Kadunnabi said: "The entire agriculture insurance potential for the country is estimated in excess of USD150 million (appx Shs.390 billion) So, there is a lot to gain from agriculture for insurance firms."
He added that the insurance industry recorded an 18.48 per cent growth in gross premium written in 2012.
"The industry's total insurance premium rose from Shs296.83 billion during 2011 to Shs351.23 billion for 2012. The growth in the services sector of the economy and their increased appreciation of insurance as a vital support service to their operations led to the growth of the gross premium underwritten.
By Gabriel Buule
Comments
comments