Business
There's more to sugarcane than sugar, Kadaga tells UDB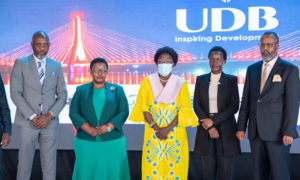 The 1st Deputy Prime Minister and Minister of East African Community Affairs, Rebecca Kadaga has called for financial support towards development of a value chain in sugar cane in Busoga Subregion.
Officiating at the UDB's Busoga Investment Forum, Kadaga also mentioned that the Busoga region has a lot of untapped potential in the areas of Agriculture and Tourism.
Kadaga said that supporting value addition to the agricultural produce, especially the sugar cane, would not only revive the economic status of the Busoga subregion but also the entire country.
"Madam Ojangole, we want to develop the value chain in sugar cane, it is not just about sugar, all that waste you saw, it is a resource for our development. we want to produce cane juice, we want to produce toilet paper from that material, we want to produce syrup for medicine out of sugar cane….if you can develop that chain we shall get employment for many of our people including those who are not very skilled , so we want you to support us in that industry" she added.
She encouraged the people to invest in tourism around Busoga to attract financial support to ensure there is a great benefit from the numerous tourism sites like River Nile which is a big income earner for Egypt.
Kadaga is optimistic that if the transportation through water from Jinja to Entebbe is improved this will enhance tourism and business.
we have the source of the Nile how does it benefit our people…if you go to Cairo, Egyptians have leisure Boats, 24 hours people pay to sit on those boats floating on the Nile, if you can support us in that industry, we would be happy because that is your resource, Kadaga explains.
"In addition, I was thinking about improving the transport from Entebbe to jinja on the water, if we can have boat transport, someone lands at the airport and get on to the boat within one hour they are in Jinja, you do not have to go through Kampala, Bweyogerere jam or suffer in Mabira forest, just straight on the water, I hope you can support us develop that industry" said Kadaga.
In response Patricia Ojangole, the Managing Director Uganda Development Bank said that the bank's mandate is to accelerate socio-economic development and therefore it is committed to undertaking interventions to support a vibrant private sector and implementing solutions that promote the country's national development priorities.
Ojangole, said as a development finance partner, we believe that the business community in the Busoga Region can leverage the resources in the region to harness investment and boost the region's socio-economic potential and development.
She said that in pursuit of this vision, UDB has held the investment forum in Busoga to gain a better understanding of the needs of the region, engage the various stakeholders, discuss access to affordable capital, and offer financial advice to ensure the sustainability of businesses.
Ultimately, the Bank seeks to impact the community in terms of job creation, contribution to tax revenue, GDP (output value), and forex exchange.
She said that the Bank is ready to support the private players with not only finances but also preparation and advisory support for a successful implementation of their business ideas/innovations.
"most of the people we have received are commercial farmers, farmers' cooperatives, the people doing projects in tourism, we have understood and appreciated opportunities here, for example development of the source of River Nile, the mineral development potential, so we have a project preparation unit that we are going to work with , to work with different promoters who should ideally be people from the region, so what we really provide is a means that the private sector can use to develop, to undertake projects. so when we take projects, we are invested in ensuring that these projects succeed"-Ojangole
The Busoga Investment Symposium was held with the aim of identifying and prioritizing investment, identifying the key challenges faced by the private sector in the region as well as solutions.
It is to further Identify sustainable and impactful investment opportunities available in the Busoga Sub-Region in line with the National Development Plan.
Offering solutions for affordable financing to facilitate sustainable development
The Kyabazinga of Busoga William Wilberforce Gabula Nadiope IV, through his representative 2nd Deputy Prime Minister, Osman Noor Ahmed, lauded UDB for playing a pivotal role in facilitating Uganda's development and for implementing solutions to address the challenges confronting the kingdom.
"We appreciate UDB for its instrumental role in guiding our people on how they can participate in activities that will boost our region. Busoga is economically endowed with resources that our people can explore to improve their livelihood." said Osman.
Comments
comments