Cissy Nagawa and Brenda AretoKotber are two of a kind. They are disabled and fashion designers. Both were initially normal walking human beings, but by the fault of fate, they became unduly crippled.
Nagawa, 24, recounts that her condition resulted from a fever attack; it left her almost lifeless. "I was rushed to the hospital with all my legs straight and paralyzed, like I had never before walked in my life. To date I don't know what really happened."
She adds: "I cried and felt bad. I would hide always from my relatives whenever they came home to visit. They would feel pity for me saying that, 'I am sick.' yet a part from being crippled, I never felt any pain."
Brenda AretoKotber's story of disability is another heart-breaking account. "I was riding on a boda boda when a car crashed into us. My spinal cord was crushed. It was the start of my troubles," AretoKotber narrates of her accident ordeal. "From walking to a life on the wheel chair was not easy because I had to adapt to this new situation."
Her life was shattered. The once-vibrant and hard-working Second Year Makerere University student pursuing a Bachelors of ICT was thrown off balance. "It was hard to fit into this condition. I was almost done with school, but the time I spent in the hospital and the recovery afterwards, I discovered my life again was just too much," she recollects.
For both Nagawa and AretoKotber, from grounded lifelines, they started trying to pick up and make ends meet again. AretoKotber went to Diana Dreams, a workshop for African women in Nansana. "I learned a lot of things but capitalized on making classic women jewelries from the confines of my veranda," she says.
From the wheelchair Nagawa started to dream of a life of growth and development again despite being overshadowed by fear, rejection and horrible thoughts of her life being confined to a Wheel chair for the rest of her life.
In 2016, Nagawa was approached to participate in the first inclusive fashion show but she could not believe it. "I thought modeling was for only people who could walk, so it was not part of me; but yes, I moved on to show my worth."
Scared and worried of what would befall her on the eventful night, in total disbelief, Nagawa hit the runway. On the other hand, AretoKotber was always conceptualizing on fashion design and to do something worth her life. And so she founded an uprising fashion and designer house, TeeTo Africa.
The two met and starred in the Malengo Hot Pink Catwalk Charity Show. It was an all-inclusive fashion night. This was the first of its kind in Uganda.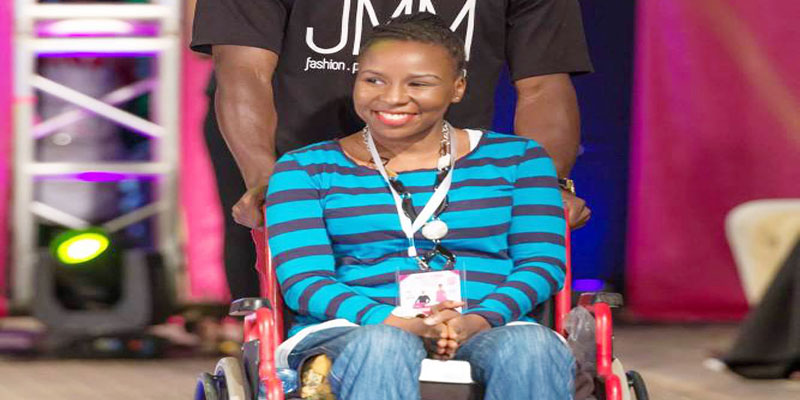 It was a night where models comprising of amputees (majorly post war victims), persons with albinism, dwarfs, burn-victims, and wheelchair users, blind, deaf and hard-of-hearing beat the odds of disability, meeting the able-bodied models. It was the perfect match to the notion that "disability is not inability".
Nagawa had always dreamt of helping her younger siblings being the first born in the family. With no education, she had wondered what she would do. Her determination and hard work propelled her into the fashion world.
Malengo Hot Pink Catwalk Charity Show is the creation of Michelle Omamteker, the Executive Director Malengo Foundation. The foundation is established to harness the Global Goal 10 Reduced Inequality, of the 17 United Nations Sustainable Development Goals. "There is need to emphasize inclusive development so as to enable every individual in society realize their full potential," Omamteker said, adding, "We need to reduce inequality; and the best way to do this is to engage with different people, especially the youth in such ventures."
She hopes that through a fun-filled activity like the Hot Pink Charity Catwalk, she can truly make a difference. Under the theme: "Breaking Myths", Omamteker has started debunking the stereotypes and myths associated with the differently-able persons that perpetuate inequality by exposing the artistic and creative talents of persons with disabilities.
The Makengo Foundation is patterned in this venture by the Modesta Foundation of Modesta, who also doubles as the representative of people with disability in Entebbe. She elaborates: "Many uneducated girls with disability have issues dealing with their disability and condition as women given the stigma in the society."
She says that women with disability have a double disadvantage that they have to deal with always. That segregation and name-calling is common, making them look as if they are putting burdens on their families. "Some parents even hide kids with disability," she adds.
During the Malengo Hot Pink Charity Walk Season Two, Nagawa returned as a fashion designer where she showcased rare types of elegant male and female shoes made from her one roomed house in Natete.
From the fruits of her hand Nagawa is hopeful all disabled people can make a living and realize their potential. "I would be begging in the street but that's not sustainable besides it's very comfortable the way I see it," she enthuses.
Despite all the huddles, AretoKotber is hopeful and believes that she will rebuild her life. She is looking into new ways to build on her business. One of those things is to find will a sustainable market for her products.
She has already done a few product showcasing with different top Ugandan fashion designers like; Elijah Macquinn, Doris Jabo, Sabiiti, Julius Muyomba, Mihunde and Kori House of Couture and Design among. "I am hopeful that this will help build my profile to be able to reach out to my target audience, the elegant Ugandan women out there who want to dress for success with classical jewelries," AretoKotber says.
The story of Nagawa and AretoKotber is a manifestation of not being disabled, but a mere shift to different abilities. It is a physical change that comes with a lot of stigma, self-resentment, fear and worries yet they have to work hard to remain relevant in the society they live in.
Omamteker captured this mood with a reference to Martin Lubwama, with a case of albinism, who co-hosted the event as a role model for other people with different ability to show their worth. Lubwama is a rising Events MC. "I have heard people talk all these issues regarding my colour," he says, "But I do not care."
Omamteker is grooming a chain of goodwill ambassadors comprising of children and youth across different physical, mental, intellectual, and developmental abilities, working towards the social inclusion of Persons with Disabilities. It is as a critical facet for attaining Global Goal 10 Agenda for Reduced Inequalities across on the African Continent.
Comments
comments