Life & Style
Kenneth Mugabi; Why I chose a unique style of music
Kenneth Mugabi is a song writer, story teller, producer and a passionate Afro-Soul performer who creates music content that traces African heritage.
His music came into the limelight recently when he staged his maiden concern in which he left many people wowed. Since then, Mugabi has conquered the hearts and minds of soul music lovers in Uganda and beyond. His impeccable voice coupled with the way he fuses it with African instruments, has often made many stop and marvel at the great talent.
Mugabi is a unique kind of musician who likes to categorise his music as Afro-Soul. This perhaps comes from the relatively slow Rythms about love and life. Although a number of people want to liken her style to that of Maurice Kiirwa, Mugabi insists his style is different.
The Sunrise's Fahad Kasibante talked to Mugabe about his music and forthcoming launch of his album titled 'Ugandan'.
Qn. Tell us about your school life.
Ans. I was born to the late Godfrey Taire Idhwege. I went to Kibuli Primary School, Lubiri high, Magera high, Migadde high and Makerere University where he obtained a Bachelors of Arts degree in Music Dance and Drama.
Qn. What kind of Music do you do?
Ans. I do Afro-Soul. But the reality is that I fuse a lot of genres. The foundation for Afro-Soul is traditional. I get Rnb and add on Ganda and fuse it a little.
Qn. Do you think the audience understands your Music?
Ans. Many people initially did not understand my music. So I said I should give it time. Right now those who didn't appreciate it, now do understand. Some people say I sing urban Kadongo Kamu, others say I have an Elly Wamala element, others call me the African Eddie Sheran.
Qn. Why did you choose Afro-Soul of all genres?
Ans. I observed and realized that other genres such as Afro pop are crowded. I decided I should focus on a genre with less competition. By then Maurice Kirya was popular with his soul music. I chose to do Afro-Soul. There is something with the African touch that cannot be said but felt. Come to my show you will feel it.
Qn. don't you find challenges working with producers?
Ans. I know what I want so I can make a producer do what I want. I direct my production and the producer does the sound engineering. The same was done during the Kadongo Kamu era of legendary musicians Herman Basudde, Elly Wamala, Jimmy Katumba and Paul Kafeero. The only difference is that I have brought it in my generation.
Qn. Can your career be traced from childhood?
Ans. When I was at Kibiri primary, I almost fainted while presenting a song. It was from that point that I hated the stage. I could not even join a School choir in my secondary level . I hated the lime light.
Qn. How did you become the Mugabi the crowd enjoys?
Ans. During my senior six vacation, while I was filling my job forms, I told my friends that I was choosing music over other courses. One of the things I never saw myself do is sit in an office. I have never imagined myself locked in one place from 9am- 5pm.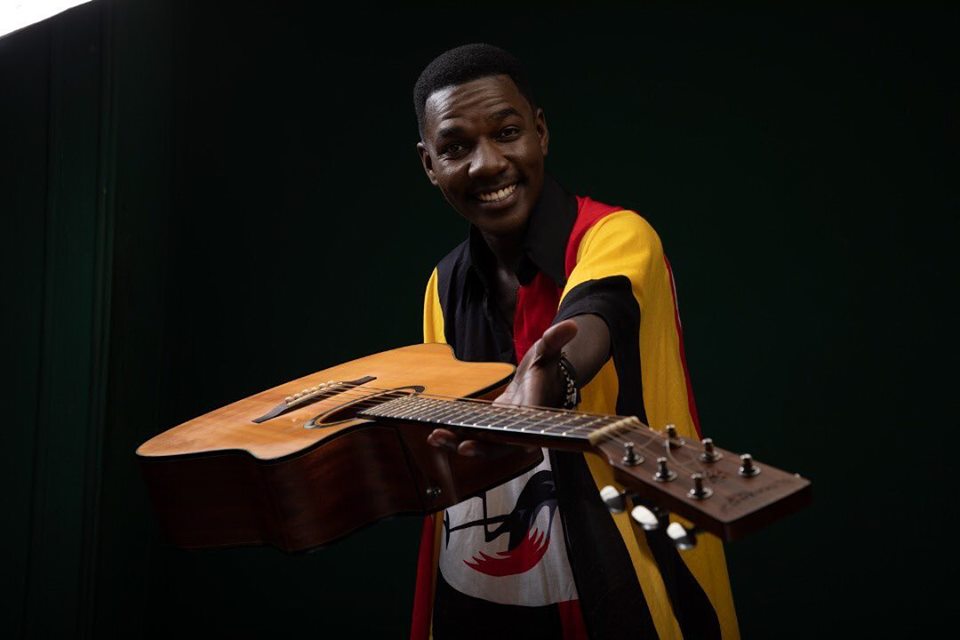 Kenneth Mugabi on unveiling 'Ugandan'
Qn. Why do you think Afro-Soul doesn't get enough airplay compared to other genres?
Ans.  Our genre has not been circulating in the mainstream. Am planning to take this genre to the mainstream. There are at least a few people who know Mugabi and his music down town. Let's give it time.
Qn. Why "Ugandan' for your second album?
Ans. This is my contribution to the industry. I call it Ugandan because it was inspired by Uganda culture. Besides, it has collaborations with artistes like Maureen Nantume, Irene Namubiru, Lillian Mbabazi and Angella Kalule.
Qn. Why them? The audience expected you to collaborate with soul music artistes?
Ans. That is the thing. I don't like the saying that "this group of artistes sings for a certain group." Music is for us all. There is no such thing as this audience understands Nantume's music. What i am trying to do is contribute to Uganda's music.
I saw what they can help me accomplish in the industry. They have the audience and I have the work. They will expose me to a wider audience.
Qn. Do you believe, like some, that Uganda's music lacks originality?
Ans. Ugandans are talented. The problem is fear. They fear to bring out what truly defines them. They produce content the audience is already familiar with. It doesn't make sense listening to the same lyrics on radio, in clubs, parties, phones and everywhere.
My music has circulated among the audience minus the radio and TV's. I am not targeting the radio, I am targeting homes, I am targeting a new Sunday, a new morning. That is what am targeting.
Qn. Any challenges so far?
Ans.  It requires quite some money especially making it commercial.
Back in the day, I used to face a lot of challenges. I was chased off the Embuutu Y'embutikizi stage and I did not perform.
Qn. Which one of your songs is your breakthrough song?
Ans. People loved Naki. Other songs have only complemented Naki though Nkwegomba has broken barriers. It has raised the name higher.
Kibunomu is my foundation. Any day, any year, any time, any place I can sing Kibunomu and am like wow! Not only in Ugandan audience but everywhere.
Comments
comments