News
Sudan's Bashir in Juba secures agreement with Kiir over oil fields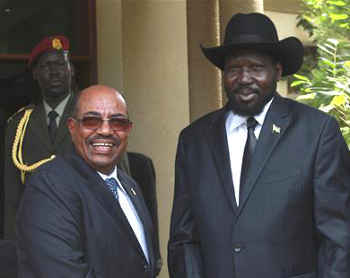 Sudan and South Sudan have agreed to establish a joint force to protect the oil fields from rebels that have captured the oil-rich northern part of South Sudan.
The agreement was reached at on Monday January 6, widely seen as a failed coup attempt by those opposed to the current leadership.
Bashir also says he has given directives to open border for all South Sudanese in implementation of the four freedoms agreement, link adding that he would protect all South Sudanese citizens within its territories.
The Sudanese leader, who says he will not back any group that is against government of South Sudan also pledged full support towards the ongoing peace talks in the Ethiopian capital Addis Ababa, which are being mediated by regional Inter-governmental Authority on Development.
Meanwhile few gunshots were heard overnight in Juba town. On the frontline, the rebels seem to be holding their positions firmly than before as members of the SPLA Nuer faction from Greater Equatoria are said to be moving up north to the Greater Upper Nile.
Report by Osman Draga
Comments
comments