News
Businessmen arrested for beating up journalists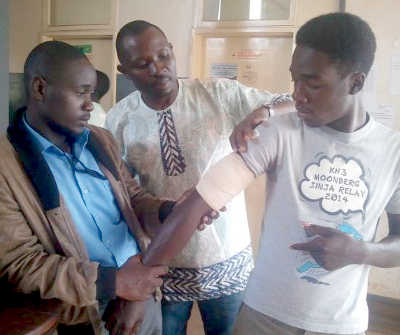 The Police in Kampala on August 20, arrested two businessmen on charges of assaulting three journalists who were on duty within the City Centre two days previously.
The two suspects Edward Ssembatya and Ibrahim Mubiru are being detained at Kikuubo police post.
The assaulted journalists Ronald Bukenya working with Joy FM radio, Zimula Joel working with Baba FM radio and Aminah Nalule working with Galaxy radio accuse the duo together with six others still at large of violently assaulting them.
The journalists were covering a protest by some traders against land lords in Kampala over what they termed as exorbitant rent dues coupled with poor sanitation of the arcades.
Police fired tear gas to subdue the angry mob.
The journalists told Human Rights Network for Journalists-Uganda (HRNJ-Uganda) that they were hit using a tripod stand by the arrested suspects together with others at large. "I told him I was a journalist and showed him my press card, but he said he did not care. He hit me around the chest using a tripod stand, I started bleeding and my blouse got soaked in blood. I later bought another one to put on before I left the city." Amina narrated.
Zimula, another assaulted journalist said the attacker tried to hit him on the neck only for the victim to escape with an injury on his right hand.
"In the process I lost my recorder." Zimula told HRNJ-Uganda at the police in Kampala. Bukenya said he was "hit with a tripod stand around the right ribs which injured him and sought for medication."
Another trader identified only as Ssebandeke was assaulted by his colleagues and told HRNJ-Uganda that he was unconscious for almost two days after the brutal assault. He sustained bruises all over his body. He said he was on his own business when he was attacked by the arrested suspects together with others still at large.
The Officer-in-Charge of Kikuubo police post, ASP Godfrey Abigaba told HRNJ-Uganda that the police would arrest all the suspects and seek justice for the victims.
"We are more disappointed than even the victim journalists who were doing their work; they had their press cards but attacked by these hooligans. These suspects were on the run but we will arrest them all, so far two are in, but we will have them all. We have opened three files of assault of journalists and a businessman. The law must take its course."
HRNJ-Uganda National Coordinator, Robert Ssempala said: "We commend the Kikuubo police for acting fast to arrest the suspects. We hope that those still at large will also be apprehended to face justice. The police must always ensure the safety of journalists when they are on duty especially under such chaotic situations."
Comments
comments