News
Kayihura on spot over ADF remarks as more Sheikhs disappear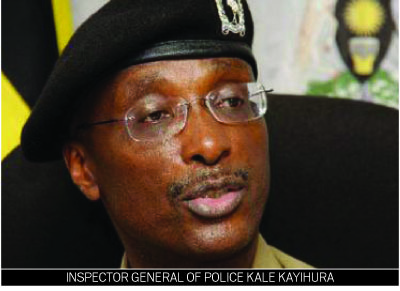 Questions over the unresolved murder of top Muslim clerics in the country continued to emerge this week after four others were reported missing.
Sheikh Ayub Nyende , Yusuf Kakande Ssemakula and Twaha Ssekitto, saying they had moved to most police stations in the country but had not yer traced them.
But Police deputy spokesperson Polly Namaye said she was not aware of the disappearances.
If it turns out that the four have disappeared, it will add more anxiety to an already frightened community that is yet to heal from the murder of two top clerics including Sheikh Abdul Qadr Muwaya of Mayuge and Sheikh Mustafa Bahiga on Dec 25 and on Dec 28 respectively.
This week, a senior Muslim cleric came out to demand accountability in form of solid evidence and action from the Inspector General of Police Edward Kale Kayihura over his comments that terrorists linked to ADF are carrying out the murder.
Ass Prof Abasi Kiyimba, the Uganda Muslim Youth Assembly (UMYA) national chairman addressed a press conference in Kampala accusing Kayihura of peddling hear-says when he told mourners in Mayuge and at Kibuli that ADF rebels were behind the killings.
Ass Prof Kiyimba said Kayihura's continued claims and lack of actions does not serve the interests of the public which expects him to investigate and bring to book the offenders rather than just sitting back and speculate.
"The IGP asserted that it was the ADF that killed Sheikh Abdul Karim Sentamu. He was sure of this even though he did not know the actual people that carried out the killings. It is very disappointing for the Police Chief to start engaging in hearsay over such an important matter. What we expect from the police is systematic investigation, arrest of culprits, a report and prosecution, not street talk," says Kiyimba.
"It is unacceptable for the police chief to attempt to dismiss the death of our leaders using such off the cuff remarks," he added.
Kiyimba expressed concern that such a position by police and government serves to trivialize the killings as a simple muslim-muslim affairs to the advantage of police since it eases pressure from their shoulders to hunt the killers while it also minimizes work in protecting Muslims "since they are killing each other ."
According to Imam Idi Kasozi from the Makerere University mosque, the unverified assumption that it is Muslims killing each other also easily blocks other possible angles in the investigation of these crimes as it dissuades volunteers from availing police with vital information on the murders since police has already adopted a fixed position on the matter.
"We want the police to do thorough investigations and stop jumping to conclusions. We therefore reject the Kayihura theory that it is the ADF killing Muslim leaders because it has not been verified with evidence. It is sheer speculation and unbecoming of the high office from which it originates."
Youth Muslim leaders have also dismissed what they have termed as a blanket assumption by both the media and sections of the general public in which these killings have been attributed to internal squabbles within the Muslim community over property.
They argue that worse disagreements including the explosive power contests between late Sheik Mulumba versus Kamulegeya, Kakooza and the late Luwemba in the 1990s have happened before and yet none of them ever led to similar bloodletting among Muslims.
"Never before have had such conflicts ever resulted into pre-meditated killings of one Muslim by another. Even the often cited deaths of Idd Kawaganya and Musa Mugerwa at Kemishego Mosque in Ntungamo in 1968 were committed by the state when it attempted to intervene in a Muslim conflict," the duo said in a statement.
Police Director of Operations Felix Kawesi, however, dismissed as baseless, allegations by the clerics as untrue. Kawesi said police have evidence of ADF's hand in the murder.
Comments
comments