News
Government revives Agric. mechanization
After years of paying lip service to agricultural mechanisation sub-sector, the government is making a powerful re-entry into the field by unveiling more than 284 tractors and agricultural implements to the ministry of agriculture.
Agriculture minister Vincent Bamulangaki Ssempijja told a news conference that in addition to the tractors, the government has purchased some 12 sets of earth-moving equipment, each with 2 multi-purpose bull dozers, 3 hydraulic excavators, accessories, trailers and harrows for the sector.
Ssempijja said: "These equipment shall be used in the construction of water facilities for example dams, valley tanks, fish ponds, canals, bush clearing, farm access roads and farm storage and processing infrastructure. The tractors will be accessed by farmers to increase land under cultivation."
President Museveni officiated the unveiling of the equipment on March 7, 2019.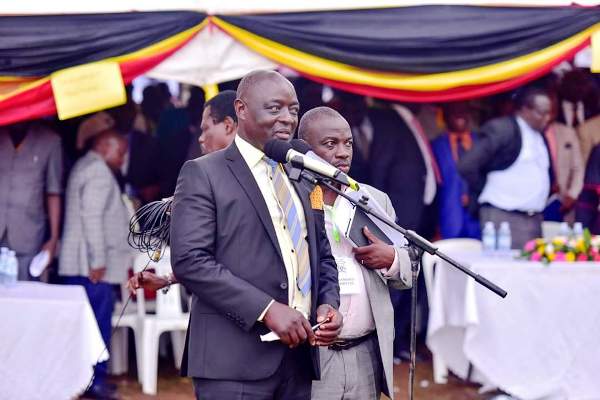 Minister of Agriculture Vicent Bamulangaki  Ssempijja at the function
For several years, the government has received a lot of flak from different sections of the population about the way it pulled out of supporting agricultural mechanisation. Critics attacked the government for simply looking on when tractors that were purchased by previous regimes such as the Milton Obote government, were being sold to farmers in Kenya, while others were sold in scrap.
The revival of large-scale agricultural mechanisation efforts by the government coincides with the official flagging off of extension service providers.
To facilitate the movement of newly recruited extension workers, the government purchased 126 vehicles, 1,061 motorcycles that will be used across all the 128 districts.
"These will significantly improve timely service delivery. The earth moving equipment will be managed on a cost sharing basis where farmers contribute money for fuel and the Ministry pays costs of maintenance and operators."
On the same day, the Ministry unveiled a number of agricultural extension materials, including a Diary for Agricultural Extension Officers designed to support supervision, monitoring and performance evaluation; a farmer register to be kept and regularly updated by the parish chief.
"The agricultural extension materials will guide extension workers, farmers and the general public on the various service delivery provisions by the Ministry including policies, laws, strategies, guidelines, regulations, standards and operational procedures," said Ssempijja.
Comments
comments