News
Stop praising me, Mufti Menk asks Muslims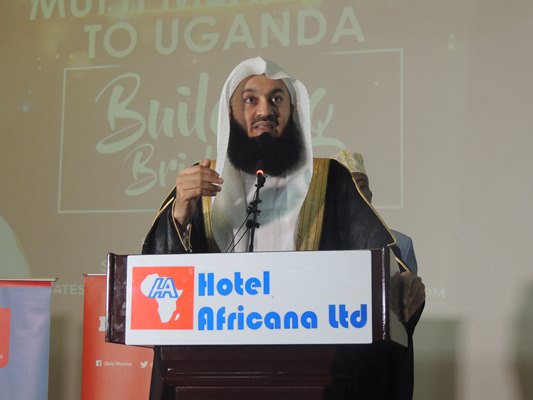 Zimbabwean popular muslim preacher Mufti Ismail bin Menk warned his followers to stop praising him because he is a normal human being like everybody.
Mufti Menk made these remarks while addressing a high-level gathering of some notable individuals dubbed the VVIP grand dinner at Pearl of Africa hotel in Kampala on Saturday last week.
"Every speaker who has talked here has been praising me. But I want to tell you that as much as I am appreciated, but to raise a man to a level of infallibility is a crime. I am a man, I have flaws, weaknesses, I become angry and find a way of overcoming my problems but I am human," said Menk.
"To hear people praising others they might be doing it with good intentions, to some it may seem to be comfortable but as a leader I disagree with it. One of the problems of the Ummah is that when we raise a man amongst us, they get to a level that even their mistakes become something you think is correct," he emphasized.
Menk emphasized that correcting people's mistakes is a pillar of creating unity when it comes to building bridges of peace among Muslims and non-Muslims.
"When we want to bring people together, we have to entirely correct them while they are making mistakes. We do make mistakes, I also do make mistakes and I must make mistakes because I am a human being!"
He added: "If you really love me I expect you to touch on my shoulder and tell me that brother I think you are wrong. You will never excel no matter who you are unless you love back those who tell you your mistakes".
He told Muslims that he even enjoys doing his own domestic chores rather than letting other people do it for him.
"I personally wash my clothes, clean my things, carry my own bags while on a journey I just feared that it would look weird if I carry them in front of cameras at the airport but I prefer to carry my own bags" he added.
Comments
comments