News
Kyabazinga Woos French Dairy Investors
His Majesty William Gabula Nadiope,IV, Isebantu Kyabazinga of Busoga has interested French Dairy investors to do business back home.
The Kyabazinga, who visited Maitres Laitiers du Cotentin in Normandy on Thursday last week was impressed by the company's successful story that dates way back in 1906.
The company is famous for its products like cheese, cream butter, UHT products among others.
While on a guided tour of their two plants at Meautis and Sottevast led by the Group's General Manager, Jean-Francois Fortin, the Kyabazinga was taken through the company's successful story.
"Am impressed with the advanced technology being used by this company. It's high time we did the same back home", the Kyabazinga said before inviting the investors to Uganda and Busoga to develop the diary industry.
On his part, Jean-Francois Fortin informed the Kyabazinga that their company is ready to honor the invite for doing business in Uganda and that it's a matter of time for the project to be rolled out.
"We are humbled by your Majesty's invitation and as a company, we are more than ready to walk the talk with your blessing", he said before the group's Director International Sales, Guillaume Billard noted that the two plants can supply their global market to satisfactorily levels.
"We have clients from Asia, Africa, Europe although our target is to penetrate more continents for business opportunities given the different products that our company boosts of".
Anthony Lecarpentier, Industrial Director at the company emphasized the need for usage of modern technology in their industry.
The Kyabazinga also visited one of the farmers at his farm with over 135 heads of cattle that give him 2600 litres daily.
"Good milk production is as a result of commitment and as a farmer, I pay a lot of attention to the requirements of the company", Minerbe Alain the farmer noted.
Maitres Laitiers is owned by French Dairy Farmers under a cooperative legal status.
The cooperative has over 1200 farmers with 744 farms. The company has a turn over of €2 billion.
The Kyabazinga is also in the French capital to engage several investors to do business with his Kingdom.
The Kyabazinga on a guided tour of the Group's General Manager, Jean-Francois Fortin,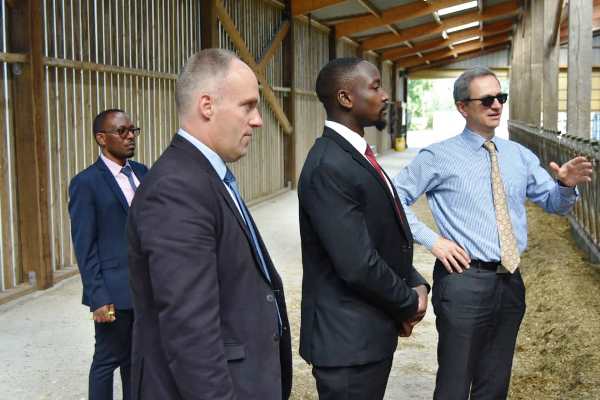 The Kyabazinga on a guided tour of the Group's General Manager, Jean-Francois Fortin,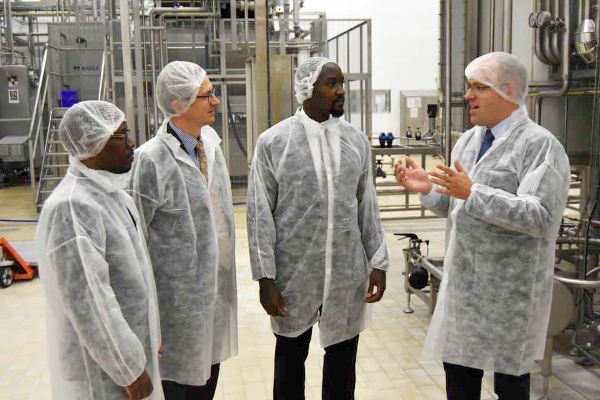 Comments
comments