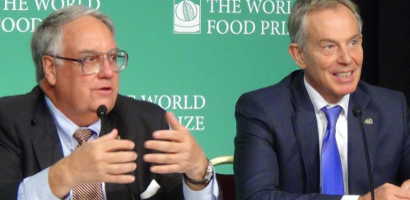 The gathering proved to be a haven of possibilities as well as opportunities to end hunger and poverty in the world by show casing the power fruits and potential biotechnology. The same event gathered philanthropists, farmers and entrepreneurs in agriculture, food processing with each keen to expose their work in helping to increase food production.
The power of science
Few people in Uganda would put a face to the name Norman Borlaug, and that is perhaps because his scientific innovations to improve food production still elude millions of people in Uganda and Africa in general. Norman Borlaug, the 1970 Nobel Peace Laureate and a born of Iowa, USA, is revered as the father of the green revolution for his outstanding work on improving yields of wheat through the use of biotechnology.
Using a technique of crossing genes – which are basic building blocks of living organisms, Borlaug managed to develop semi-dwarf high-yielding wheat varieties that helped to boost wheat production in Mexico, Pakistan, India and several other countries in South Asia.
The collective increase in food production that resulted from Borlaug's tenacious breeding work is said to have saved up to a billion people from starvation in Asia and has since been referred to as the green revolution.
Borlaug's innovations have been and continue to provide great inspiration to thousands of people around the world to solve hunger and poverty most especially in Africa, which lost out on the green revolution.
It was therefore no accident that the World Food Prize and Borlaug dialogue revolved around the opportunities in advancing Borlaug's ideas of using the science of biotechnology to solve perhaps today's greatest challenges of hunger and poverty.
And the various lectures and field tours during the week-long event did not disappoint in that regard.
Pioneer Dupont's ambitious 2020 Food Security goals of boosting food production with a focus on greater innovations, youth engagement and rural community engagement, as well as real life stories of American farmers who have witnessed dramatic improvements in their lives as a result of adopting improved seeds that yield better and are able to face up to more hostile weather patterns give room for greater optimism.
And yet, despite apparent consensus among participants at the 2013 Borlaug dialogue, the discussion did not hide from the controversies that surround GMOs in many countries and which have helped to delay the adoption of potentially life-changing technologies especially in Africa.
Rewarding innovation
The World Food Prize also seemed to be the perfect setting for announcing several initiatives and campaigns targeting the youth in Africa who are engaged in agricultural-related entrepreneurial projects.
Howard Buffet, the philanthropist and President of the Howard G. Buffet Foundation, joined former British Prime Minister Tony Blair through his Africa Governance Initiative, and the World Food Prize foundation, to announce the 40 Chances Fellows Programme, an attractive competition that seeks to reward youth in four African countries for developing unique ideas to improve food production.
The 40 Chances Fellows program would empower four individuals from four African countries of Liberia, Rwanda, Sierra Leon and Malawi with the most innovative social enterprise business plans with up to US$ 150,000 to cater for their living expenses and start-up funds for one year to help them launch their efforts.
But the announcement came as a highlight of what two philanthropists are doing in many countries in Africa with the view to nurturing young people in leadership as well as supporting communities to produce more food more sustainably.
Still with the young people, the Borlaug Leadership Enhancement in Agriculture Programme, announced new opportunities for one-year fellowships for students conducting research in topics related to the US government's global hunger initiative – Feed the Future. Successful applicants from Sub-Saharan African Countries would benefit from grants worth US$20,000 to undertake research in a US university or appropriate institution. Application deadline is December 2013.
Social entrepreneurship projects already on the ground in Africa such as the One Acre Fund received further boost by tapping into more funds to expand their operations including extending micro-loans to small African farmers.
At the symposium, Mastercard Foundation announced it would provide US$10m to One Acre fund to enable the organisation extend micro-loans, agricultural extension services and inputs to some of the poorest farmers in Kenya, Burundi and Rwanda.
Tapping expertise in food industry
Bigger businesses entrepreneurs in Africa who are engaged in food processing were not left out. The non-profit organisation Partners in Food Solutions an initiative that links small-scale food processors with established American companies with the view to helping African processors get access to over 500 retired technical employees of leading American food companies such as General Mills, DSM and Buhler.
According to Jeff Dykstra, the CEO of the Partners in Food Solutions, his organisation is helping to mobilize volunteers to share vital expertise with more than 400 small and growing food processors in several Sub Saharan Africa countries like Ethiopia, Kenya and Tanzania.
Uganda however features less prominently among the countries that have tapped the various opportunities so as to enhance her food security situation. And according to Tony Blair, opportunities follow keen and aggressive and dynamic leadership that is ready to embrace new opportunities to transform their societies economically, socially and politically. The dynamism in the political environments in countries like Kenya, Malawi, Ghana, Nigeria and Rwanda probably helps to explain why those countries are reaping the best of the opportunities that target improving food production.
Comments
comments