Arts
Fresh Kid management sign scholarship agreement with Rupareilia foundation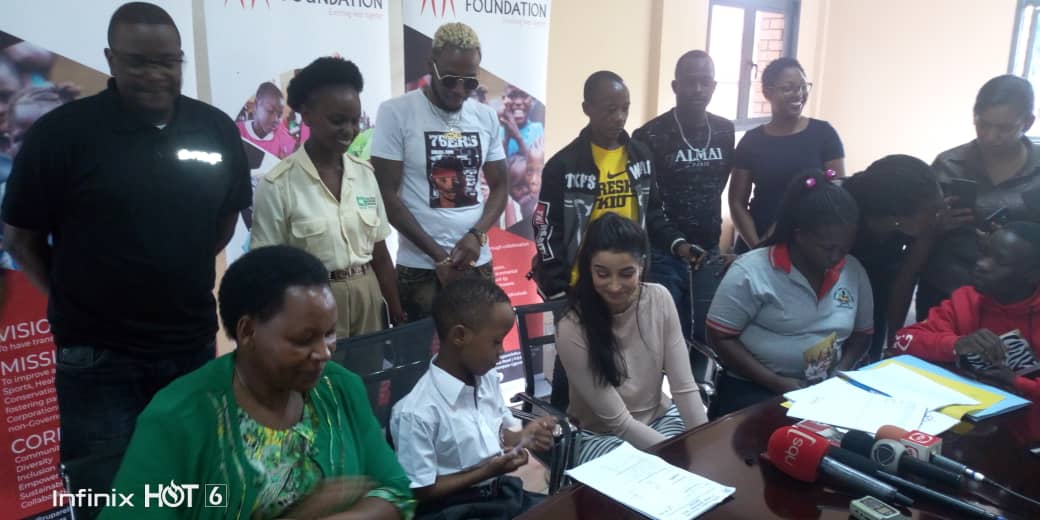 The Ruparelia group of companies has signed an Education scholarship with parents of Patrick Senyonjo alias Fresh Kid agreeing that the young artiste gets his primary education through Kampala Parents School.
The agreement says that all what fresh kids needs to be at school is fully paid for by the Ruparelia group and they only need the boy to fully attend school .
In attendance there were various artists who included Gloria Mulungi Senyonjo alias baby Gloria who advised fresh kid to always keep in school in order to succeed in life. Seguya Faisal alias Rabadaba who also happens to be the old boy of Kampala Parents School  applauded fresh kid for being an exceptional talent who needs to develop day by day .
"Education gives you the domaine of music. A person who is educated finds it easy to atticulate things easily ." Rabadaba advised
The executive director Performance Rights Society James Wasula has advised the parents of fresh kid to ensure that he attends school on a daily basis as it will help a lot in determining his future , he further caustioned his manager not to over work the boy by making him stay along time on stage .
"Fresh Kid should decide on his money however much he is young ,saving for the boy will help him Soo much especially in his future ,don't make this boy  over stay on stage ,we shall make sure that thetboy attends school on daily basis and we shall follow up ." Wasula said
Mrs Namata Madrine the mother to Fresh kid applauded Kampala Parents School and promised to full fill all what they have asked her to do so that her boy excells .
This scholarship goes for seven years and fresh kid will be starting school on Wednesday next week at Kampala Parents School in primary two after excelling in the interviews conducted .
The head of Ruparelia Foundation Mary Kobusigye assured and promised to fullfill all that they have agreed upon in the agreement. She however called upon the parents of the boy to play their role to ensure that the kid gets his education .
Comments
comments