Arts
Baby Toi Arrested, Convicted and Imprisoned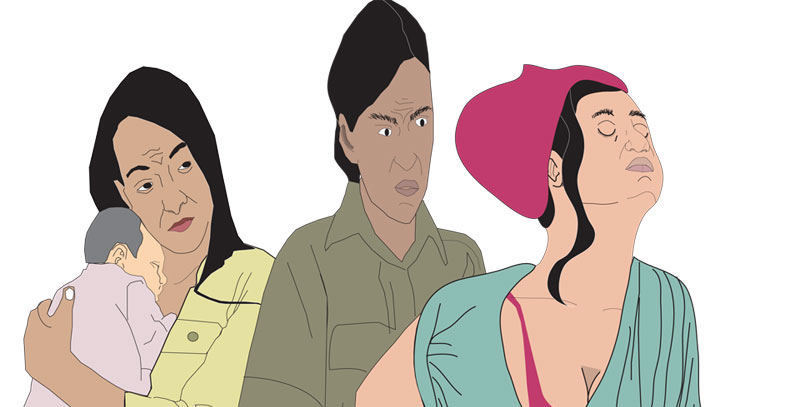 "I locked myself inside the house and remained silent. I could hear people shouting; 'Omwana agudde mu toilet mutuyambe'. I remained safe inside my house because nobody suspected me to be the owner of the baby. The neighbours would not think of me throwing my baby away because Seeka provided everything for me; I even gave some things to them. And as I was hiding in the house for three days, they would have thought I was not around.
"I heard the Police car siren; I climbed the table and looked through the vent (kamooli), and my baby was saved. I saw a woman carrying a basin of water to wash it and she said, 'Bambi, kyi girl'.
"It was at this time I learnt that I had delivered a baby girl. I felt guilty a bit. People started abusing the owner of the baby with all sorts of words, not knowing that she was just around the corner.
"As the sun got brighter and as I climbed down the table, I slipped and fell down heavily; only to realize that the table was full of blood. I was continuously bleeding. It was this blood that gave me up. Blood drops followed me up to my door.
"The Police and the other people followed these blood drops and ordered me to open the door with all sorts of insults.'Hajj Abaasi nkubuulire bwoba tovumwa nga ko suula omwana mu toi. Banange abantu bamvuma'.
"When the Police started breaking the door, I gave up and opened peacefully. Haaaa! The insults continued; malaaya, tamanyi kitaawe wa mwana, omubbi, omusajja nga abadde amuwa buli kimu, oba mulalu, banange kale mulabe sente eziri ku meeza'. I had not removed the money that Seeka had thrown up to me three days ago.
"Some woman gave me a slap of her life, accompanied by; 'Mutuswaza nnyo mwe.' Because of the guilt and shame, I never felt the pain. 'Nga ndi mukumagula maaso goka'."
At this point Baby Toi and her friends started laughing. Then, she continued her story:
"It was this Police woman who helped and carried me to the Police patrol car. The Police wanted me to carry the baby but the mob refused, saying; 'Aja kumutta temumumuwa'. They were becoming wild and wanted to beat me up, which forced the Police to drive off.
"Since I continued bleeding, I was taken to the hospital where I spent five days. Very many people came to see a woman who had thrown her baby into the latrine. I overcame shame by pretending to be mad. 'Hahahahaha! neefula agude edalu naye nga nali ntegeera'.
"I was under a Policewoman guard and tied up to my bed with handcuffs.
"On my second day in hospital, I had a terrible moment in life which I can't forget. At around lunchtime, Rahma came with a basket of food. The Policewoman asked her to taste everything; which she did. She avoided eye contact with me. But she continued wiping tears from her face. She never said anything to me.
"She paid for the private room, and got a private doctor to take care of me. She came and pushed my bed to the private end. She gave me some money, but still tears continued running down her face. As she was going out she turned round, looked into my face for the first time. I saw the motherly love and anger in her that made me break down, and I cried loudly.
"She came near me and held me on to her chest for over five minutes. I felt loved for the first time ever since I committed the crime. Not even my parents had come to see me. Rahmaaa!
"She requested the Policewoman not to allow anybody, apart from the doctors and nurses into the room; otherwise, I was going through hell. Everybody would come, abuse me and go."
Baby toi stopped to tell her story as she wiped some tears. I also felt bad because she was very emotional. She continued…
"I was discharged after five days, and taken straight to court. The court charged me with attempted murder. I was not allowed to say anything because the investigations were still going on. I was asked whether I had a lawyer and said, 'No'.
"It was only Rahma who appeared in court; Seeka and my people were not there. I was dejected but very happy with Rahma's presence.
"I was sent here on remand. Having stayed in boarding schools from P4, this place appeared to me like a boarding school of discipline. And for me, it was better than the hell I left outside. I was never teased. And I got friends who counseled me.
"After six months I was committed to the High Court. A week before, Rahma, came to see me. By the way she used to come and visit me. But that day she came with a lawyer; she had got one for me.
"The lawyer coached me to say that this was my first pregnancy and when I left the toilet I never knew that I had dropped my baby. I thought it was just normal defecation. He was sure the case was mine because it happens.
"I asked him about the piece of cloth the baby had been tied in. He said that the mob threw it back into the latrine because it was dirty. So, there was no exhibit. I was excited about that.
"After talking to the lawyer, Rahma wanted me to meet another person whom she described as a lawyer, too. I said it was okay. When the person appeared, Allhu'Akbalu, it was Seeka! I was not prepared for this; I ran away crying back to my dormitory. I later learnt that he paid for the lawyer. Rahma had played her cards again.
"It was a Tuesday morning when I dressed up for the court. When the court resumed, among the exhibits that were tendered in, was my baby who was beautifully dressed, very healthy and happy. She was being looked after by Baaba Rhahma."
For the first time, I saw happiness in Baby Toi's face. She continued with the tale.
"Looking at my baby, I saw it as betrayal to deny the case. I raised up my hand and requested the Judge to cancel my earlier plea of 'Not Guilty' to 'Guilty'.
"My lawyer got confused, but I was firm. I had to be punished for my crime. Seeka was in court and I told the whole story. The woman Judge listened attentively; my lawyer lost control over the case and I lost, but I was happy.
"The Judge asked me whether I had anything to say before sentencing me. I requested to be allowed to hold my baby for at least one minute, and to thank Rahma.
"Some people in court angrily said, 'Nooo'. But the Judge called Rahma, who took the baby to her. The Judge herself brought the baby to me. With tears running down my cheeks, I held my baby for the first time.
"The judge told me not to throw her away again, which made the court to laugh. She went back to her chair and started writing some things. I remained with my baby for over ten minutes and the court was so silent that you could hear the Judge's pen scribbling on the paper.
"After that long, the Judge requested Rahma to pick the baby; and gave me a chance to thank her. I really loved that moment, Hajji Abaasi.
"The judge gave me seven years in prison. I have finished the six years, and now, remaining with around seven months to go." This ends Baby Toi's painful narrative.
I visited this prison on Sunday and when I asked Baby Toi whether she has seen her baby, to my surprise the six year-old girl was just there with Rahma; they had come to visit her. The girl looked lovely and happy.
I look at Rahma's picture which she had agreed to show me, but for the sake of Seeka and Baby Toi, I can't show you that good- hearted lady.
Today, Baby Toi has been teaching History and Geography to 'O' Level prisoners. She has also learnt tailoring.
She has been rehabilitated and she reconciled with Seeka and they hope to marry when she comes out.
Allah blessed Rahma with a son of her own, who is now three years old.
I thank you all my funs. Those who missed the last four parts of Baby Toi's, please check out The Sunrise on, On-line. And please, I need your comments.

Allah, Bless you all.
Comments
comments