Arts
Ugandan Activist selected to attend the World Bank Group youth summit
Ugandan Film Maker and social activist popularly known for his Anti FGM movement, Gabriel Walter Busulwa will be again rubbing shoulders with prevalent rights movers World Bank Group  youth summit.
A social film maker and Grass root Anti FGM activist and women's rights defender will be set to discuss issues concerning girl-child and human rights at large.
Busulwa whose anti FGM movement has seen him travel to over 18 countries will again keep the trajectory on advocating ending FGM, child marriages, empowering women equality, and curbing teenage pregnancy and promoting girls' education following numerous campaigns both locally and at global stage.
Who is Gabriel Walter Busulwa
Busulwa is an independent filmmaker and activist with his first film, a documentary "Far away" that gained global audience earlier in 2015 followed by "Not bride" which showed in more than 31 countries.
Busulwa is an alumnus of the Prague Film School in 2016, he joined the African Film Consortium and also represented Uganda at AFRIFF (Lagos) and in January 2017 was invited by African artist peace Initiative to attend the African Peace Forum (African Union Youth Summit week, Addis Ababa).
His films have been exhibited both locally and globally basically on the grassroots on educating communities, he holds several leadership positions with organizations in Africa and international currently he is the founding executive director of Abawala trust Africa, founding member of the Anti FGM movement of Africa, he chairs boards of different grass roots organizations in Africa, he has facilitated workshops, conversations, panel discussions and dialogues in Uganda, east Africa, Nigeria, at the African union and globally.
For nearly eight years he has been using film teaching, talking, sensitizing and creating awareness about Ending FGM child marriages and teenage pregnancy using documentaries, short films, photography and participatory theatre.
Getting into FGM Walta visited  kainengoi valley in amudat district in northern  Uganda on a volunteering trip to mentor children and adolescent girls in schools during various activities they discovered about a group of  girls who died of bleeding the cause was cutting them it moved him so much when he returned home he embarked on doing research on FGM he later then moved to villages and communities in northern and north eastern Uganda holding  different dialogues on Ending the practice which is also connected to child marriages because in some areas it's done to initiate girls into marriage. At some point walta was arrested deep in northern Uganda when he went on an outreach trip to do a dialogue discussion on child marriages he then found out one of the police officers married a 13 year old he confronted him who instead jailed him for 3 days later he was released and went back home.
Walter has grown into a strong social justice film maker, a big time activist and a strong advocate against FGM and child marriages in Africa and he is now celebrated globally for his work.
Walter has gone in over 18 countries in Africa talking about FGM, child marriages, women equality, teenage pregnancy and girls education, he has created a lot of campaigns, consults a lot on girl and women led issues both locally and on a continental level.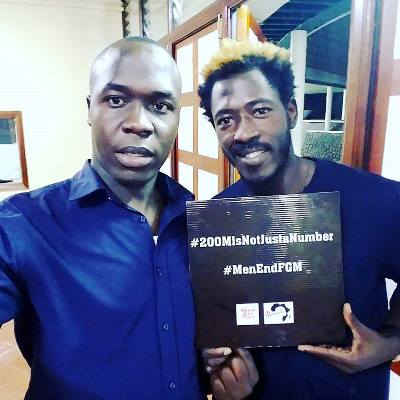 Comments
comments