News
Case of assaulted journalist adjourned for a week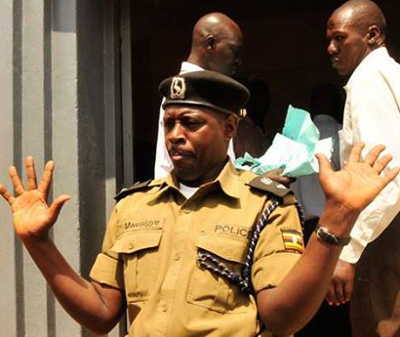 Joram MwesigyeBuganda Road Court in Kampala on Wednesday adjourned a case in which a Wavah Broad Casting Services (WBS) Journalist Andrew Lwanga accused a senior police officer Joram Mugume of assault was adjourned for one week after defence lawyers claimed their client was sick.
The Trial Magistrate Sanyu Mukasa granted a one week's extension to Wednesday 25th February 2015, mind contrary to an application by Mugume's lawyer George Spenser for a two week's extension on grounds that "the accused has a serious ailment and has been advised by his doctors to have a bed rest."has a serious ailment.
Prosecution led by Deborah Itwau had objected to the application on the basis that she had a witness in court (Andrew Lwanga) and seeking for an adjournment was intended to delay the due process of court. The judge however dismissed her pleas.
Andrew Lwanga went to court to seek justice after he was assaulted by Joram Mugume, 2014 while he was covering a demonstration by a group of unemployed youths who were heading to Police Headquarters in Naguru to deliver a letter to the Inspector General of Police (IGP) General Kale Kayihura to allow them hold rallies in the different parts of the City.
Lwanga sustained injuries on the head and was admitted at Mulago National Referral Hospital and thereafter transferred to St. Francis Hospital Nsambya for over two weeks.
Robert Ssempala, the Coordinator of the journalist defenders group, Human Rights Network of Journalists – Uganda (HRNJ) said: "We applaud the expeditious trial the judiciary has accorded this matter and the media for critically following and covering the progress of this case in public interest."
Comments
comments