Education
A different kind graduation at HOCW
Friday, September 29, 2017, was a different day for the people Ndejje. 82 of the zone's residents, most of them already fathers and mothers, converged at Hope for Children and Women Victims of Violence (HOCW), to celebrate and be declared graduands after crowning a full year of study.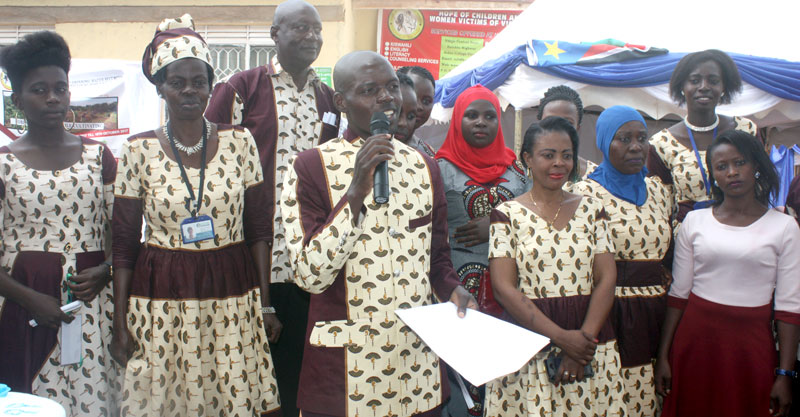 The director Bolingo Otahira John addressing the congregation with the staff
The jubilant graduands received certificates in English language, Tailoring, Hair dressing Computer and Business studies from the NGO, whose mission is to empower disadvantaged groups, mostly women, to acquire life skills so that they can start and run businesses to support themselves and their families.
It was the fifth graduation ceremony for HOCW, since its establishment in 2010.
And the centre's founder Pastor Bolingo Ntahira could not hide his excitement at the fact that yet another group of people were leaving the centre armed to face the challenges of life.
Bolingo, who came to Uganda as a refugee, hailed the staff of HOCW and other volunteers who shared his  dream of establishing a centre that can be used by the most vulnerable members of the society to overcome skills-related obstacles.
The graduation ceremony also coincided with the closure of one of the projects on mushroom growing, which has been running for the last 3 years. The project was funded by the Republic of Slovenia through its Ministry for Foreign affairs and ZAVOD KROG.
The event was honoured with the presence of several dignitaries including the area MP Emmanuel Kigozi Ssempala, the LC 3 Chairman Sejjengo Sulaiman, Bishop Elijah Zziwa and councilor Bilal Mukiibi.
Chairman Sejjengo hailed the Pastor for his tireless effort in uplifting the lives of humble people.
Sejjengo informed guests that the centre is not only a beacon of hope in Ndejje that also hosts the headquarters of Ndejje sports club.
Ssejjengo appealed to the government to come out and help such organizations which have the potential of creating employment for the community.
HOCW future plans
At the same event, HOCW unveiled another project that will seek to empower members with farming skills particularly in the growing of vegetables for both domestic and commercial purposes. Pastor Bolingo revealed that the farm will be located on their 5 acre piece of land located in Nakawuka.
Pastor Bolingo also revealed that the centre was blessed with the construction of a community library courtesy of  a partnership between HOCW and Sky foundation, an organization from the U.S.A. The library will offer space to members to try to improve literacy among members of the public.
The most amazing thing about the centre is that everything is free of charge from education to skills acquisition.
Muhammad Mugerwa, one of the the graduates heaped praise on to HOCW and its founders and staff when he said it is the only institution in Uganda where one can truly acquire skills without parting with any money.
Comments
comments