April 22, was Earth Day. It is an occasion for which the nature-loving people of the world use to celebrate the achievements made in protecting the environment, but also perhaps deliberate on dangers and challenges facing the health of the planet.
From different corners of the world, the planet is facing enormous challenges which threaten not just human survival but also lesser appreciated creatures.
From climate change, to biodiversity loss, rapid population growth and pollution, the planet is sicker than any time in history.
This year's Earth Day theme 'End Plastic Pollution' seeks to draw the world's attention to the dangers posed by plastics to the survival of humanity and the world.
Plastics, which are products of oil, have enormous benefits to humanity. From their common use as containers for water, fast-moving goods such as drinks, food, and utensils in our households, it is fair to say that the invention of plastic greatly contributed to our civilisation.
In fact, the use of plastics has greatly helped to slow down the destruction of natural forests when they used to substitute timber in some key aspects of the construction process.
Plastics are also used to transport liquids such as water, oil, waste for far long distances much more safely than humanity could ever imagine and hence contributing to a safer and prosperous environment.
And yet, when mishandled, plastics can be a menace and make the planet unlivable. One man identified as David Charo cheated death when he swallowed a toothbrush on April 1, 2018. He was lucky to have it removed through surgery but had to endure five days of intense pain while he survived just on drinks.
Charo's example, isolated as it might seem, illustrates that death often lurks in the misuse of plastics.
In Uganda, plastics use has proved to be a bitter-sweet relationship – wanting to use them and yet so dangerous when we dump them in rubbish bins along with other forms of waste.
According to Eng. Obed Lutakome, the Kampala Capital City Authority (KCCA) official in charge of waste management, Plastics constitute only about  5 percent of all solid waste collected in all the five divisions of Kampala.
Plastic in Numbers
But when one considers the actual volume of waste from across the city estimated by KCCA at 1,500 tones every day, plastic waste accounts for 75 tones every day.
The absence of a culture of waste segregation that compounds the problem of solid waste management in Kampala and several other cities of the developing world.
Although plastics can be recycled into other products, KCCA still struggles to manage waste and spends up to Ushs8.5billion on transporting ad disposing of the waste from Kampala annually, according to Lutakome.
As Uganda joins the rest of the world to discus the impact of and solutions to the problem of plastic mishandling, it is important to reflect on a discussion that was organised by the Konrad Adenauer last December.
At that round-table debate, a group of young professionals brought together by the Germany-based organisation, presented findings of a study on the challenges of waste Management in Kampala.
Because of the absence of the culture and certainly sensitisation among the general public of the need for garbage separation and collection, a lot of the plastic ends up either in the landfill in Kiteezi or it finds its way into water channels such as Nakivubo and eventually leads to clogging up of the water and sewerage channels.
But Prof. James Okot-Okumu a lecturer in environmental science with expertise in waste management from Makerere University argued that rather than heap blame on plastics, the greater challenge rests with the leaders' failure in all areas to sensitize the public and provide incentives aimed at better waste management especially waste segregation.
Taking cue from Prof. Okot-Okumu, it would seem appropriate for KCCA or Uganda Revenue Authority (URA) for example to introduce tax incentives for institutions and facilities that segregate waste.
But Lutakome argues that incentives are needed more in sensitizing the public to embrace the idea of waste segregation than on the recyclers.
"There are many people who are interested in recycling. Providing incentives to recyclers is not necessary therefore as these companies would be accessing raw materials almost at zero cost. The problem now remains the absence of a culture of segregation."
Innovations
Lutakome argues that as part of its strategic plan, KCCA is trying to cultivate relationship with private players and community based organisations (CBOs) to segregate waste and ensure that more of the recyclable waste is taken up while the biodegradable waste is disposed off more safely to the environment.
"Currently we have a Memorandum of Understanding (MOU) with Coca Cola and five CBOs to segregate and recycle waste. Under the MOU, KCCA built five waste collection centres in five divisions where community members segregate the waste and sell it to Coca Cola at Ushs 600 per kilo of plastic waste," says Lutakome.
Win Win from plastic segregation
Although Lutakome downplayed the need for incentives, he noted that the city authority helps to transport the waste to Coca Cola's recycling plant in Nakawa.
He notes that the arrangement represents a win-win situation to all parties.
"It provides employment and a source of income to the CBO members. It helps off-set the cost of collecting and disposing off the waste, and is a raw material for Coca Cola from which they make plastics for re-use and earn a profit," Lutakome notes. Indeed, plastic recycling helps the wider society by ridding it of garbage that tends to clog water channels.
KCCA targets building four more such waste collection and segregation facilities in each of the five divisions of Kampala.
Despite the apparent benefits of recycling, it seems to be the case that KCCA and other development partners may need to invest more resources and efforts in changing the mindsets of Ugandans to embrace the culture of waste segregation.
According to Simon Kaheru, Coca Cola's publicist, their recycling plant in Nakawa receives between 7-10 tones of plastic waste every day. This means that the vast amount of plastic waste remains out in the environment and continues to cause damage including flooding as waster is blocked from flowing to the drainage or down to the lower layers of the earth.
Enzymes that eat the  plastics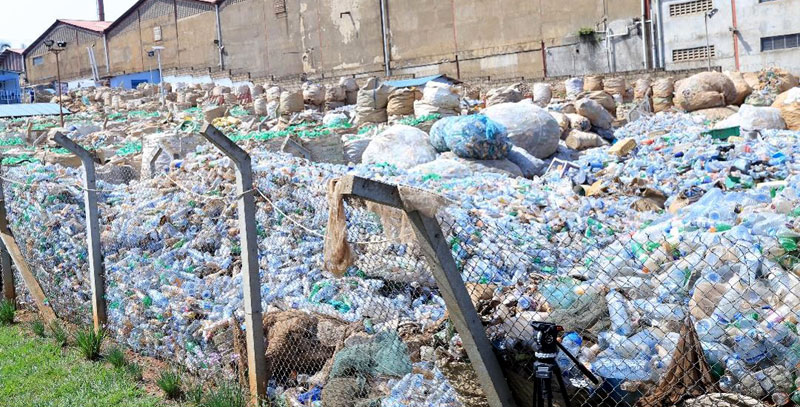 Coca-Cola Beverages Africa Uganda plant in Nakawa
Scientists in the United Kingdom have improved a naturally occurring enzyme which can digest some of our most commonly polluting plastics, the BBC reported this article this week.
PET, the strong plastic commonly used in bottles, takes hundreds of years to break down in the environment.
The modified enzyme, known as PETase, can start breaking down the same material in just a few days.
This could revolutionise the recycling process, allowing plastics to be re-used more effectively.
Originally discovered in Japan, the enzyme is produced by a bacterium called Ideonella sakaiensis which "eats" PET as a source of energy.
Researchers reported in 2016 that they had found the strain living in sediments at a bottle recycling site in the port city of Sakai.
"[PET] has only been around in vast quantities over the last 50 years, so it's actually not a very long timescale for a bacteria to have evolved to eat something so man-made," commented Prof John McGeehan, who was involved in the current study.
Polyesters, the group of plastics that PET (also called polyethylene terephthalate) belongs to, do occur in nature.
"They protect plant leaves," explained the University of Portsmouth researcher. "Bacteria have been evolving for millions of years to eat that."
The switch to PET was nevertheless "quite unexpected" and an international team of scientists set out to determine how the PETase enzyme had evolved.
Eating plastic
A high definition 3D model of the enzyme was created, using the powerful x-ray beamline at Diamond Light Source in Oxfordshire.
Once they understood its structure, the team noted that they could improve the performance of PETase by adjusting a few residues on its surface.
This suggests that the natural enzyme isn't fully optimized yet and there is potential to engineer it.
PETase was also tested on PEF plastic, a proposed plant-based alternative to PET that is similarly slow to degrade in nature.
"We were absolutely stunned when we did that experiment because it actually works better on PEF than PET," Prof McGeehan told BBC News.
He adds: "They could be used to make more plastic and that would avoid using any more oil…Then basically we'd close the loop. We'd actually have proper recycling," explained Prof McGeehan.
The enzyme is a number of years away from being deployed on a widespread scale.
Comments
comments