News
Boxing body receives hefty donation from betting co.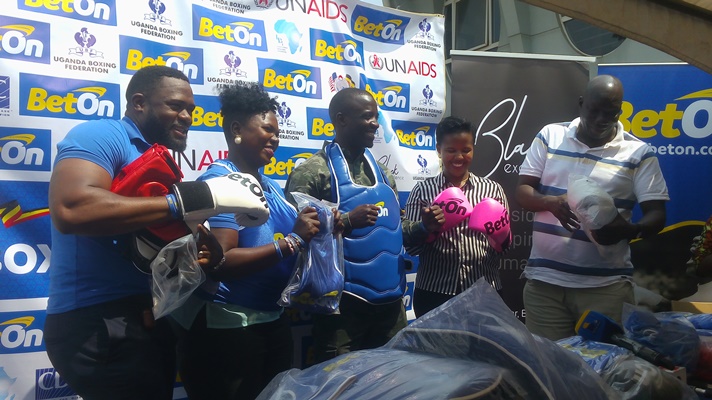 The Uganda Boxing Federation has received aid worth UGX20m in form of protective equipment such as punching bags, pads and gloves from their new partners BETON Sports Betting company.
During the official unveiling of the partnership Uganda boxing federation (UBF) and BETON which took place at the UBF offices at Lugogo on Tuesday this week, Moses Muhangi the President of the Federation expressed  joy and thanked BETON for choosing boxing as their sports partners.
"Am so happy for this company of all sports in Uganda to choose boxing and it means there's success in our federation and we are going to utilize this chance to see that we promote boxing" he said
He added that this deal will help them to organize the coming National Boxing Championships and all African games because boxers now have variety of boxing equipment's to use
"As boxing, we have been having inadequate funding from the government but if an opportunity like this comes we have to use it well and we going to use this equipment's in training sessions as you aware our boxing camp is going on well for the coming all African games"
The Ambassador of BETON company in Uganda Miss Fiona Pink xpressed joy and happiness for having made deal with the Uganda boxing federation (UBF), and she said that the deal will go up to UGX100 millions in terms of equipment.
"It's a pleasure for having a deal with the Uganda boxing federation as BETON company we looking at promoting sports in Uganda and we shall work hand in hand with the federation in promoting boxing "
BET ON has now joined USAID in sponsoring the boxing federations.
Comments
comments