Business
Exports, Deforestation Worsen Charcoal Crisis
Charcoal dealers as well as some officials from the National Forestry Authority have blamed the government's policy of allowing charcoal to be exported to Kenya, a country that banned charcoal burning itself
Mothers and restaurant owners and other businesses that depend on cooked foods are having a hard time making ends meet because of a sharp increase in the prices of charcoal.
In most parts of Kampala and Wakiso, a standard bag of charcoal now goes for at least UGX120,000. In some areas, the price has peaked at UGX140,000.
Charcoal dealers as well as some officials from the National Forestry Authority have blamed the government's policy of allowing charcoal to be exported to Kenya, a country that banned charcoal burning itself.
A number of people who have spoken with The Sunrise have expressed anxiety about the high cost of charcoal with some saying they can no longer afford to have two meals a day, while others say they have resorted to crude forms of energy such as using plastic waste for cooking.
Godfrey Bogere, who has dealt in charcoal for over ten years, attributes the current price shock to charcoal exportation to neighboring areas of Kenya, coupled with the drying up of charcoal sources from places such as Ngoma in Nakaseke that have been supporting Kampala over the past few years.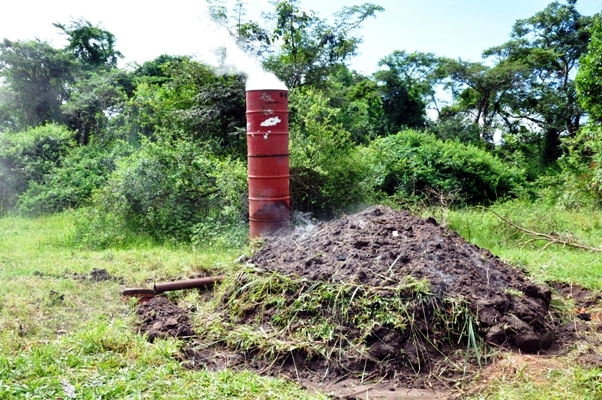 "Trees are almost wiped out now. The little we have is exported, and we have no alternatives, I don't think we shall be able to survive tomorrow," Bogere said.
Bogere who distributes charcoal to various retailers along Mukono-Kayunga road says charcoal exportation should be stopped with immediate effect, even though he observes that this might be an uphill task because of the alleged involvement of highly-placed government officials and corruption at the border with Kenya.
"Government should abolish exporting charcoal but I don't think it will be easy because exporters are big people in the country," said Bogere.
Aisha Alibhai, the Public Relations Officer of National Forestry Authority (NFA) shares the view that the policy of allowing charcoal exports is draining the few remaining charcoal sources in the country, yet majority of Ugandans still depend on the energy source for survival.
"We urge relevant authorities to come up with policies that stop charcoal exportation because the same country that smuggles our charcoal doesn't burn its own trees," Alibhai said.
Alibhai also encourages Ugandan citizens to adapt to environmental friendly stoves that consume little charcoal.
"I encourage people to use environmental friendly stoves, once it heats up it can cook all your food without you wasting a lot of charcoal," said Alibhai.
Alibhai further calls upon Ugandans to plant indigenous trees as well as bamboo in order to sustain the supply of charcoal in the foreseeable future as the country moves to the middle income status where more modern energy sources such as use of electricity and natural gas are envisioned.
"As NFA, we freely give out indigenous trees like Mvule, Bamboo, Mahogany and others, however bamboo is the great alternative for making good briquettes that can be used for cooking other than charcoal," stressed Alibhai.
Ismail Kasasa, a young man who runs chapatti business in Mukono town says his earnings have drastically reduced following the increase in charcoal prices.
"Ever since charcoal prices went up, I have to avoid some of my needs, I now only manage to save about UGX 5,000 a day despite the energy I spend in making over 100 chapatis. Before the rise in the price of charcoal, I could save at least UGX 20,000 a day," says Kasasa.
Kasasa notes that in his effort to increase his profit margin, he tried to reduce the size of the chapati, which however sent away some customers.
"I had to reduce the chapatti size so as to keep in business but now customers have reduced yet I can't abandon the business as it's the only source of livelihood," reveals Kasasa.
Meanwhile, Kasasa calls upon relevant authorities to intervene by reducing the cost of electricity so that the demand for charcoal goes down.
"Am appealing to government and concerned authorities to reduce electricity prices and also provide us with more alternatives to charcoal or else we are all quitting business," said Kasasa.
Edwin Muhumuza, the Chief Executive Officer of Youth Go Green Organization says they have started sensitizing and teaching people to adapt to other sources of renewable energy such as charcoal briquettes that are made from waste among other alternatives.
"We have alternatives of renewable energy like charcoal briquettes from agricultural and other wastes and if we adapt to them we can get rid of charcoal that is turning out to be expensive and a huge problem to our very existence," said Muhumuza.
"We have a training centre as Youth Go Green in Kireka where we train young people charcoal production from waste and we intend to advance this project to many parts of the country," stressed Muhumuza.
Proscovia Nanyonjo, a Buganda kingdom Official from the Ministry of Lands, Farming and Environment says they (Buganda Kingdom) reach out to Ugandans and educate them about alternative means to charcoal.
"The Kabaka has always directed us to keep the climate favorable and by this we prioritize environmental protection activities in our 'Bulunjibwansi' activities as well as using our broadcast media houses to reach out to over 12.5 million Ugandans where we educate them about alternative sources to charcoal," she reveals.
The current crisis is being worsened by the fact that leaders in northern Uganda, which were recently a source of supply for charcoal coming to Kampala, have tightened the moratorium on charcoal burning in the region.
The widespread curse of deforestation, coupled with rapid population growth rates, twin challenges that are being experienced, have added to the crisis of charcoal.
Some studies have revealed that deforestation in Uganda has increased over the past decade from 100,000 hectares per year to now over 200,000 hectares.
At this rate, one researcher, in an article titled Deforestation in Uganda: population increase, forests loss and climate change, projects that Uganda risks losing its entire forest cover by the year 2050, if nothing is done.
Comments
comments