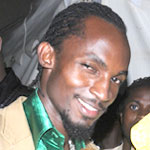 Our snoop has learnt that very soon Mozey will leave the glamour of the city and go back to kyalo!
As we speak, he has paid almost half of the money in a land deal in Kayunga that measures 30 acres.
mbu he is purchasing this chunk of land at 2.5 million and he has paid almost 60% of the money.
Mbu all this is pressure from his  'Maama wabaana' who insists that they plan for the future while the present is still good!
Comments
comments