Arts
Lweje gets married to Dr. Yahya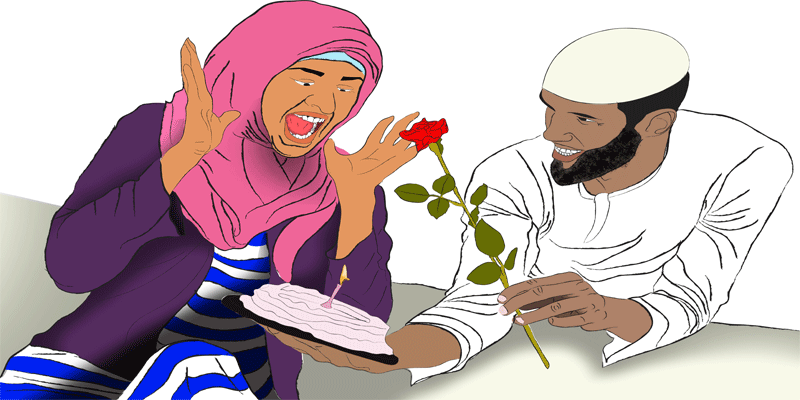 Last week, it is on this Timeline.

Let's continue:
"Hajji, the man stood before my father and the relatives, who were around and announced that he had brought me back. He thanked everybody and gave my aunt an envelope which contained UShs. 3million.
"For me, I had run away from the living room because already I had been informed of the intention of the meeting, for Sheikh Badru had been informed about it by my husband. In the children's bed room where I was, I could hear everything. I tried to cover my ears not to hear what they were sayng, but again I wanted to know the reason why. I hit my head several times to remind myself that I was not asleep, but it was real not a dream.
"I heard Sheikh Badru asking where I was for me to sign the divorce papers. Senga brought them into the bedroom. Here, I had to be firm for I realized this man hated me.
"When she went back, I heard her (my untie) asking for the reason, but there was total silence until my Dad broke it with; 'Mwanyinaze, mu baasa oba mwemuli ensonga' (Sister, may be the reason is in the envelope?). Senga said that on the envelope they have written UShs. 3million.
"Dad said, 'Ebaasa ye jimudize.' (Return his envelope); and lastly he said: 'Asalaam Alaikum'. I could hear agony in his (Dad's) voice. He was crying!. The visitors left. Two of Adam's brothers and sister had come earlier to be there as witnesses. Outside the house, men were off-loading the lorry.
"Hajj Ashraf, Nakaaba!, How could my marriage end like that without any reason? What hurt me most was that this man, my husband, Adam, to do it with witnesses. At least he would have done it secretly. On top of that, he was again silent about the reason for divorcing me. I asked myself many questions: 'Was I bad in cooking, was I stinking, bad in bed matters. Why,  me'?"
At this point, Lweje was crying uncontrollably, and very very bitter. I tried to calm her down, but failed. I had a bottle of mineral water that I surrendered to her. She rested her head on her friend (remember Kakumbi), who was seated next to her, before she continued with her story.
"Hajji Ashraf, nsonyiwa okukaaba, naye kyinuma nnyoooo, munange."
She wiped more tears as she continued with her story.
"Luckily enough, sleep over took my thoughts, and I had it well without bad dreams. It rained heavily that night and the property that was off-loaded in the compound got wet. I never wanted to look at it. I wanted Senga to take all of it, but she refused.
"This man had cleared his house everything; the sofas, the bed and cooker – everything was in the compound. Daddy never wanted that property to be there; he asked Sheikh Badru to take it. The Sheikh brought a lorry and cleared everything.
"He prayed for me with my dad and told us that Allha never wrongs, He does everything for a reason. His preaching gave me courage and I continued with my life.
"Yet, I wanted to know why Adam divorced me. I used to offer nursing services to his school for free. So, I went to his school to do my work as usual every end of the month. When I reached the gate, the gate man, who knew very well that I was the wife to his boss, requested me to wait. He ran to his boss' office before coming back with an envelope.
"In the envelope there was money = UShs 500,000/=; and a latter that my services had been terminated. I tried to call him, but he made his phone busy and he sent a massage that, 'Ndeka nawe' (You leave me alone). I gave the UShs. 500,000/= to the gate man, which he could not believe and went home devastated.
"A year passed and I had even been promoted on my job. The salary was good and I was driving a big nice car, but I was lacking one important thing in life – love. I hated all men who tried me. The question of, why Adam divorced me, was always ringing into my head.
"With my beauty plus the way I used to dress up in my First Class hijabs, it made most of Muslim men to ask for my hand in marriage. But I considered them all traitors.
"It was not until this handsome dental surgeon, trained in the UK, was given a job in the very hospital I was working in, that my interest in men was re-awakened. The very first time we met in the dining room for lunch, I fell for him.
"Hajji Ashraf, the guy was handsome, banange. I was surprised that when I went to our hospital mosque for prayers, he was there, too, and he led us into the Dhuhuri prayers. After prayers, I pretended to go in his direction but actually following him.
"When he entered the Dental Department, I went my way but after saying, salaam, which he returned with a smile.
"Hajji Ashraf, chills ran all over my body. I was so excited. After work, as I drove out of the hospital, I met him at the gate walking out. I stopped and offered him a lift, which he accepted. I was ready to drive anywhere he wanted me to take him, when he stopped me at a nearby washing bay to pick his car. He opened the door and thanked me for the lift. He admired my car that it was nice; that he was; Dr. Yahya, and I told him my real name, not Lweje.
Here Lweje was telling her story while smiling. She was really in love.
"Hajji, abakazzi tulabye. Ssinga nafe twali tukwan; I would have proposed to Dr. Yahya. One day after our break tea, Dr. Yahya proposed a date in form of a dinner. I accepted without hesitation. We were to meet at Mosa Courts. After lunch I excused myself from duty and went home to prepare. By that time I had build another good house at Buziga, where I stayed with my male cousin and a gate man.
"At 6.30pm I was at Mosa Courts, dressed to kill, in one of my best hijabs from Turkey. Yahya arrived at 7.00pm and we went in. They had prepared a special table for us. Having studied in UK, Yahya spoke English with a very good accent, just as I did, so we matched.
"At exactly 8.00pm, something I never expected happened. Lights went off and around 10 waiters came with candles, prepared the table very fast with a cake, as they started singing for me, 'Happy Birthday'. I remembered it was my birthday. Dr. Yahya had done it for me.
"Before I could realize it, I found myself kissing him, as the lights were switched on. I asked him how he came to know my birthday and he said that, that was not for that hour. He continued to tell me that if you need something, just chase for it; that he has been chasing me.
"He proposed to me; and I agreed there and then. He even wanted to meet my dad, but I wanted to find out why Adam had divorced me; and never to fall into the same problem, again. I was to find out after staying with him for sometime.
"Dr. Yahya was a devoted Muslim. He never wanted sex before marriage and the month of Ramadhan was in two months' time. So, everything was to be done quickly.
"I made all the tricks until he gave in and had sex with him. I cooked for him, and did everything a woman does for her husband; we stayed together for three weeks. I asked him to be open to me whenever I have any problem. He said that he would be happy to do anything for me; that I was the woman he wanted to marry.
"I went talking to Senga, who told father about it. Ha! Dad was a bit hesitant, but later he agreed to it. Everything was done very fast. Sheikh Badru was always the in-charge of the functions. The nikha was to be done on the day of introduction and the wedding was to be held after Ramadhan.
"Again after nikha, Sheikh Badru remained with our certificate giving the same reason that he was to record first in the mosque book.
"Ramadhan ended and our wedding was the talk of Kibuli and Kawempe. Dr. Yahya was building a big good house in Lubowa which was about to be completed. Meanwhile, we were staying at mine.
"After two months in marriage, Doctor changed; he stopped talking to me. He would not touch me, either. One day, I came home from work and found my Dad, Sheikh Badru and two other men, whom l learnt later, were lawyers.
"Hajji Ashraf, Dr. Yahya had prepared a Tarakha (divorce papers for me)…..Allahu Akbahu."
We shall continue with the third episode. Allha, bless you all.
Comments
comments