Arts
Vizurii Dance Crew 're-defining Dance in Uganda'
For writer Satchel Paige explains that someone should 'Work like you don't need the money. Love like you've never been hurt. Dance like nobody's watching. And this explains the determinations behind Uganda's  auspicious Dance genii Vizurii Dance Crew.
With Ugandan Dance explained by instruments and moves depending on a particular tribe or region, for Vizurii Dance Crew is a combination of all telltales the fusion of Urban and Culture perhaps Using Moves to tell stories on the dance floor.
Watching them perform  in one of their innovative pieces  Tonsindika 'Don't push me' as Choreographed by legendary Dancer and Choreographer Faizal Ddamba  mostrixx and Vizuriii Dance Crew.The performance shows a political society where the position of power is crucial and negotiated in a non-democratic discipline.
About 7 (Seven) urban dancers demonstrate elements of time and space with two rectangular boxes in an energetic pushing each other discipline fighting for position of power in contemporary choreographic, reflecting on current political states.
Vizurii Dance Crew will be holding their Maiden show dubbed Tonsindika  'Don't push me' at National Theatre ( Uganda National Cultural Centre) on the 13th April in a glamour packed show that will see them perform several pieces.
Begotten by popular Dance organization Batalo East who are proprietors of Batalo Dance Fest where Vizurii have been popular Participants in their annual Batalo Dance Fest will be holding performance in a creative blended dance show (Tonsindika).
Uganda traditional dance moves
Every tribe in Uganda has traditional dances which act as a symbol, identity and custom of the people. The traditional dances are unique, interesting, and meaningful and most of all portrays richness of our daily lifestyle.
The dances have specific shouts or ululations', beating of drums by the drums men, blowing whistles before they are performed.  The songs sang are well-endowed with a great art of poetry, proverbs and rhythm. "Every dance is a reflection of supreme unity, dedication, passion and pride from the community".
For the jewelry pearl lovers a thought of "the world's finest, high-quality, stylish, classic pearl is perfect. "As beautiful, lovable, valuable pearls are; so is Uganda". 
The Vizurii you didn't know
Vizurii Dance Crew is a professional urban dance group based in Kampala that started in 2011 and consists of members Breakdance Project Uganda (BPU), where they met while dancing and teaching with the organization that uses breakdance and other elements of hip hop for positive social change.
With BPU, the members of Vizurii have been teaching and performing break-dance throughout Uganda, working with various government, community and faith-based organizations, NGOs, artists and festivals.
Through their continued involvement with BPU, the members of Vizurii remain committed to Ugandan youth, leading and encouraging the development of hip-hop dance in the country. They have been using their dance as a means of connection and cross-cultural exchange in different countries.
To complement their work as a part of BPU, the members of Vizurii came together to create a dance crew, combining their individual talents in a professional performance group.
Vizurii have professional knowledge of urban dance styles like Hip-Hop, House and Afro-House, New style, Popping, Contemporary, Break dance, Krump and Ugandan traditional dance performing with different African and contemporary dance companies, both in Uganda and abroad. They seek to use this experience to enhance their specialty, which is breakdance and hip-hop.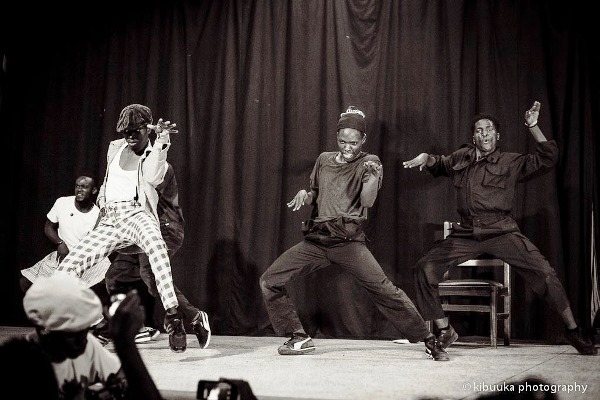 Vizurii Dance Crew have previously they have been participating in dance competitions in East African countries, which includes Uganda, Rwanda and Kenya, in competitions such Sakata Mashariki and managed to win the Dance Heaven championships Season 4, Batalo Dance Fest 2013 and 2017 5 on 5 All styles crew battles.
Who makes Vizurii Dance Crew.
Kiryowa Fahadhi aka Skychief
Kawera Enoch Ssekandi aka EnochEffects
Naganzwa Erick aka Erick Sama
Hamza Pirimo
Bogere Ronald aka Ronnieval
Walugembe Isaac aka Milky
Email the author : buuleg669@gmail.com
Comments
comments