Business
Osukuru mining project: Uganda's first fertilizers to hit market in October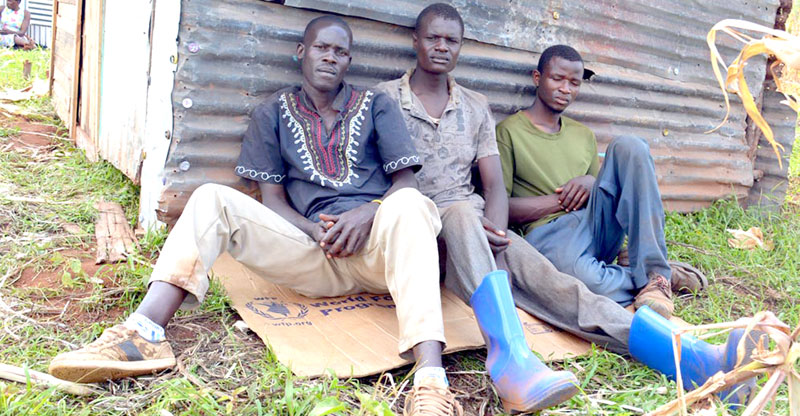 Young men wait for work outside the factorySeated at the main entrance of Dongsong Industrial Park in Osukuru parish, Tororo District, Eastern Uganda, 24 year old Benard Ebu awaits to be allocated work in a busy factory.
Ebu tells The Sunrise that the new phosphate plant in Osukuru has brought more jobs to the people of his area.
He explains that more youth have got jobs and livelihoods are changing in Osukuru and the surrounding areas.
Unlike Ebu, Fred Aura has waited for a month and he is still waiting to get a job here.
Aura says middle men have made it much harder for locals to get decent opportunities in the industrial park.
Guangzhou Dongsong Energy Group contracted two labour companies that include Worker Bee Limited and Star Light Holdings to provide workers for the on-going Osukuru phosphate project.
In the same queue of jobs, stands Rose Akuti who has waited to get a job for the past two month and she is still waiting.
She says agents usually tell her that opportunities for women are yet to be available.
Fredrick Angura chose not to be employed by the company but to provide a service by the side. He wakes up every day to bake Chapattis which he later sells to the hungry workers.
Outside the plant are several food business hubs emerging as well as other retail businesses.
Guangzhou Dongsong's Chief Executive, Jane Guo Yaqiong explained that the U.S. $620m (Shs2.2trillion) mining venture has so far created 500 local jobs and there are over 100 Chinese employees.
Yaqiong explained that the Chinese team was brought in by the sub-contractors whose contracts will be terminated when the plant becomes fully operational.
Guangzhou Dongsong, which was handed a 50-year mining licence in 2013, plans to tap into this gap and likewise tap into potential markets in neighbouring countries.
Yaqiong explains that Guangzhou Dongsong's  license covers 265 square kilometers of the Osukuru hills, which, according to feasibility studies, contain 75million tons of phosphorite (the raw material for fertilisers), 213 million tons of iron ore, 429 tons of niobium, and 1 million tons of rare earth.
In what Yaqiong referred to as a world class mine, Guangzhou Dongsong will unveil a phosphate fertiliser factory, glass factory, cement factory among others.
The company plans to unveil its first batch of mineral phosphate fertiliser Independence Day 9th October 2018 when Uganda commemorates 56 years of independence.
Recently, L V Weidong, the company's president, told a local newspaper that so far Shs1.1 trillion ($310m)   has been spent on foundational work including engineering, procurement and construction.
The Osukuru deposits of phosphate were discovered in the 1940s during the search for limestone for cement manufacturing.
The steel plant, expected to be ready by next year in July, will process iron ore and is the core of Guangzhou Dongsong's business with an expected output of  500,000 tons of steel per year.
The USD 620m (Shs2.2trillion) mining venture, owned by Chinese Guangzhou Dongsong Energy Group, a Chinese firm, will create over 1,200 jobs and earn Uganda billions of shillings annually.
Osukuru mining project is currently Uganda's biggest mining investment venture in more than 30 years since the collapse of Kilembe mines.
Comments
comments