News
Calling all farmers in Kabanyolo to participate in the Poultry-Horticulture Circulation Cooperative Demonstration Farm, PHCCDF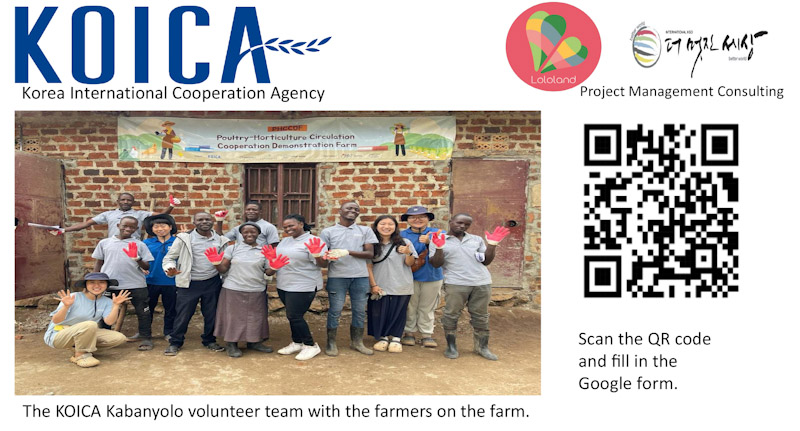 Project Introduction
Korea International Cooperation Agency (KOICA) working hand in hand with Lololand Ltd and Better word as the Project Management Consulting office in Uganda.
Project Title: The performance-oriented volunteer dispatch project to strengthen the capacity of rural areas of Wakiso district in Uganda.
Period: 2023 – 2025.
Main activities: Agricultural capacity building activities in 1 institution (MUARIK) and 2 regions (Namulonge, Kabanyolo)
Recruitment: The Kabanyolo KOICA volunteers are conducting the recruitment process for the participants interested in the project.
Kabanyolo KOICA Volunteers
The team is focusing on developing and training farmers in broiler management, growing Korean and Ugandan vegetables (organic farming), training agricultural skills and marketing at large. The farm stands on one and a half acres of land and its located in Kabanyolo bordering with MUARIK land on spring road.
How to participate:
Mark your calendar: The Recruitment will start on the 15th of September and conclude on the 22nd of September and the program will run for 4 months from September to December 2023. To participate in this invaluable project, simply visit the Kabanyolo farm with your national identity card for registration. The process is free of charge. Once you finish registration, you will receive more information regarding the training sessions. Attend all the sessions to maximize the knowledge and skills you'll gain. Contact Judith the Project Coordinator on +256 778730813 for direction on where the farm is located and more information about the project.
Why should you participate?
Enhance your knowledge: By participating you will acquire essential skills, techniques, and insights that will elevate your poultry farming to new heights.
Grow Korean and Ugandan vegetables: Learn the secrets behind successful vegetable farming. Master advanced methods in cultivating Korean and Ugandan vegetables using organic farming practices, leveraging the expertise of KOICA 11th project volunteers who bring a wealth of knowledge and experience from South Korea.
Comments
comments