Letters
MPs should seek more knowledge on GM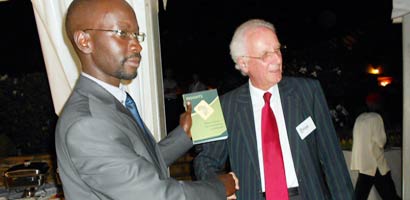 The Global Status of Commercialized Biotechnology/GM 2013 report also indicates that between 1996, when the first report was released, and 2013, there has been a 100-fold increase in biotech crops acreage from 1.7 million to 175.2 million hectares.
For those to whom the term biotech or biotechnology is new, the UN Convention on Biological Diversity defines it as "any technological application that uses biological systems, living organisms or derivatives thereof, to make or modify products or processes for specific use." Many people use Genetic Modification (GM) or GMO [Genetically Modified Orgaisms] to imply biotechnology.
The Ugandan media has in the previous couple of years presented many articles or discussions for or against biotechnology, most importantly agricultural biotechnology. This was made the more important when the National Biotechnology and Biosafety Bill, 2012 was tabled in Parliament. Comments have come from all corners, technical and non-technical, on benefits and risks of deploying genetic modification.
While presenting the 2013 biotech report to the Ugandan audience at Imperial Royale Hotel in Kampala, Dr Charles Mugoya, the Programme Manager of the Association for Strengthening Agricultural Research in Eastern and Central Africa (ASARECA) said: "What is trending now is biotechnology research. We are getting more and more comfortable with the technology." He still would have been correct if he had said that the public was getting to hear more and more about biotechnology – whether positively or negatively.
Mugoya was speaking to a mixed audience: scientists, journalists, tax collectors (Uganda Revenue Authority), Members of Parliament (MPs),  and, beside me, was a representative of an environmental NGO who told me that it was the first time she was hearing good things about GMOs.
"You mean this can even improve biodiversity?" She asked me. I referred her to the professionals in the room including Dr. Maxwell Otim Onapa, the Deputy Executive Secretary of the Uganda National Council for Science and Technology (UNCST) and Dr. Theresa Sengooba, Adviser to the Programme for Biosafety Systems. I hope she has contacted them for more information.
For 30 years biotechnology has been in place; the world continues to cover more space with biotech crops; more African countries are adopting the technology and according to the 2013 report, Burkina Faso just earned itself $300m that year from bt (bacillus thuringiensis) cotton. Bt cotton has, through biotechnology, been protected in such a way that when the bollworm gets in contact with the cotton it dies.
In Uganda, laws governing the use or adoption of the biotechnology are not yet in place. The bill mentioned earlier was presented for the first reading on February 6, 2013 and MPs were sent back to consult on it. What should be taken seriously, however, was a submission by the Woman MP for Kiruhura district Beatrice Barumba after Dr. Mugoya had presented the ISAAA report.
"I think politicians are not the right people to campaign for this bill. I think it is you the scientists. Sometimes for us politicians this does not work. This bill is not popular with many people," Barumba, who is a member of the Science and Technology Committee of Parliament, said.
If her statement it true, that the bill is not popular with many people, and among these are the people the MPs have to consult to give "informed opinion" when the bill is presented for the second reading, then we have a problem. But not one we can't solve. Scientists have put in a lot of effort to explain to people, including the MPs, what the bill and the technology are about. If they still need further information, why not give it to them.
Last week, I had the opportunity to meet one of the most acclaimed scientists of our time Professor M. S. Swaminathan at the 2nd Biortification Conference in Kigali and took him aside to talk about biotechnology. Prof. Swaminathan is known to many as the father of the "Indian green revolution" because of his agricultural reforms that transformed India's agriculture. He was acclaimed by TIME magazine as one of the 20 most influential Asians of the 20th century. Now you understand why I bring his opinion in Uganda's case-he is knowledgeable.
"Every signatory to the Cartagena protocol should have regulation governing GM [genetic modification]," Prof Swaminathan told me. Is Uganda signatory to that protocol? The answer is yes!
Prof. Swaminathan added: "A number of commercial companies have developed the technology. In India there is a large area under bt cotton. GM is a powerful technology. With climate change we will require plants that are resistant to high temperatures. There are opportunities with GM but there are also concerns over its environmental and health effects. Risks must be asserted very transparently.
"GM has added a new dimension to our capacity but [Uganda should] walk cautiously. Develop your regulatory system through your Parliament. The public, the media, political leaders, professionals, all of them must be involved.
 "Any powerful technology has benefits and risks. Don't put things under the carpet. The country should know the facts. You have to develop a mechanism where every step is measured. But let us not discard any technology."
I find Prof. Swaminathan's statements pregnant with message and very direct. He does not mince words. In brief this is what I have picked: we have to regulate the technology if we are a Cartagena protocol signatory; stakeholders must be consulted and made to understand the technology; we should not discard the technology.
The regulatory step being handled by our Parliament is very important as it will determine how fast we can get to tap the benefits of biotechnology, or how much we are putting ourselves at risk for failing to regulate the technology.
I advise that our MPs, who are now consulting on the bill, to contact the UNCST to link them to sources of professional knowledge about biotechnology such that when they go to their constituencies they do not only ask whether people want the technology, but are also able to educate people what the technology is all about, and what it implies for them. If they tell people the truth, I doubt that there will be any progressive Ugandan left to oppose the technology, or its regulation.
Comments
comments