News
I have come back to fight impunity – Sejusa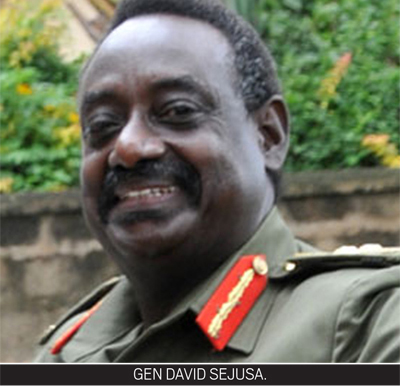 Former coordinator of intelligence services, Sembabule District, Gen Sejusa said: "I have returned to Uganda to fight impunity. That is my stand. I still stand by it just as before I left this country."
Gen Sejusa also denied reports that he had returned through a negotiated deal, saying: "It is my constitutional right to return back home. Security has not done anything so far and I expect the situation to remain so."
The General, who had fled the country in April, last year surprised the country with an almost discreet entry into the country, flying in via British Airways at 3am.
Daily Monitor reported Sunday the General had been whisked off in a military Jeep a few minutes into his return. 
He was received by his sister, his private lawyer, Ladislaus Rwakafuzi and Brig Ronnie Balya, the director general Internal Security Organisation.  
General Sejusa also denied reports linking him to the NRM saying: "I've never been a member of the NRM."
General Sejusa sneaked out of the country after he authored a letter accusing Inspector General of Government, Kale Kayihura and General Salim Saleh, Musevni's young brother of planning to kill him [Sejusa], former prime mister Amama Mbabazi, and Gen Aronda Nyakairima, the Internal Affairs minister for opposing the "Muhoozi Project".
In the letter, which was later leaked to the press, Gen Sejusa had wanted the director general of Internal Security Organisation, Brig Ronnie Balya to investigate allegations that there was a plan to kill key government elements, who opposed the idea of President Museveni to groom his son Brig Muhoozi Kainerugaba from assuming the presidency.
Now in the country, General Sejusa had in exile directed a sustained attack on the Museveni-led regime, saying Ugandans needed to break the chins of impunity and dictatorship of the NRM regime.
Comments
comments