News
Bobi Wine unveils formidable mobilisation squad for 2021 polls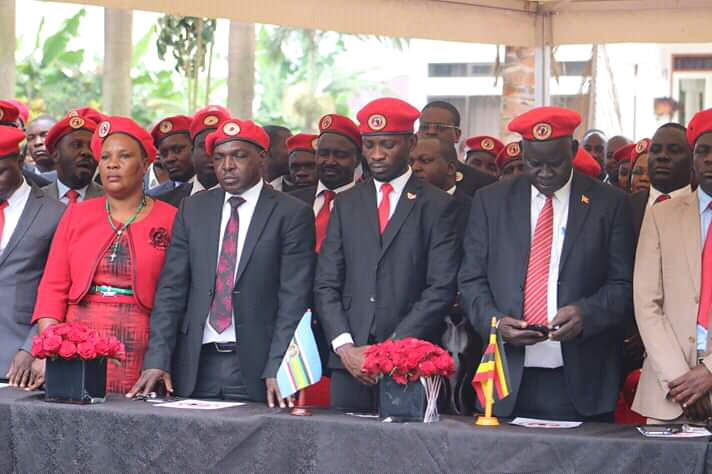 Kyadondo East Member of Parliament Robert Kyagulanyi a.k.a Bobi Wine has taken the most fundamental step so far in his bid for the presidency of Uganda come 2021 general elections.
At a time when many observers were speculating about a possible decline in the influence of the People Power movement , on Wednesday Bobi Wine surprised them with a bombshell squard.
The courageous youthful MP lined up a strong team of influential politicians, musicians, entertainers, religious persons and other well-known people as mobilisers to cover all regions of the country.
The team comprises at least 28 Members of Parliament from all parties.
The MPs, most of whom were charged with the duties of lead mobilisers, include:
West Nile: Hon. Kasiano Wadri (Team Leader West Nile), Hon James Acidri, Hon Oguzu Lee,
Acholi: Hon Lucy Akello (Team Leader Acholi) Hon Gilbert Olanya, Hon Anthony Akol
Karamoja; Hon Adome Bildard (Team Leader)
Lango; Hon Jonathan Odur (Team Leader)
Teso; Hon Susan Amero (Team Leader
Hon Mbwatekamwa Gaffa (Team Leader)
Bunyoro; Hon Barnabas Tinkasimire (Team Leader)
Bugisu; Hon John Baptist Nambeshe (Team Leader)
Busoga; Hon Asuman Basalirwa (Team Leader) Hon Paul Mwiru
Bukedi; Hon Nabulindo Agnes (Team Leader), Hon Catherine,
Rwenzori; Hon Winnie Kiiza (Team Leader), Hon Robert Centenary
Kampala; Hon Medard Ssegona (Team Leader), Wakayima Musoke
Greater Luweero; Hon Lutamaguzi (Team Leader), Hon Brenda Nabukenya
Greater Mubende; Hon Patrick Nsamba (Team Leader) Hon Kalwanga David
Greater Mpigi; Hon Muwanga Kivumbi (Team Leader), Aisha Kabanda
Hillary Kiyaga (aka Dr. Hilderman), Teddy Nambooze, Sadam Gayira
Greater Mukono; Dr. Lulume Bayiga (Team Leader)
(Mayor of Mbiko, Kiwanuka Abdullah, Patriko Mujuuka Simbwa
Greater Masaka; Hon Mathias Mpuuga (Team Leader)
Hon. Sewungu Gonzaga, Hon Florence Namayanja Dr. Abed Bwanika
Youth Wing; Hon Francis Zaake(Team leader)
The launch took place at his Magere home in Kyadondo East, allegedly after many hotels in Kampala declined to host the event.
Kyagulanyi also used the opportunity to re-assert his readiness to stand for presidency in 2021.
He said: "I am personally willing and ready to stand as a presidential candidate come 2021 and challenge President Museveni for a free and fair election head on but I can assure you with your support we shall win."
Comments
comments