News
MUK students strike over graduation fees hike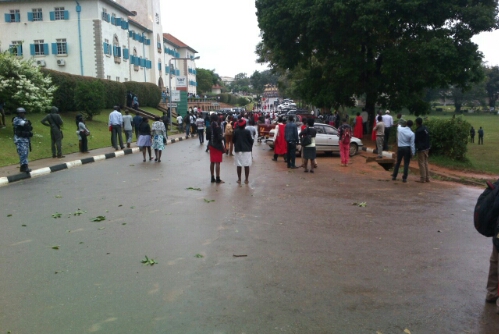 Police Monday fired tear gas and live bullets to disperse rowdy students who had staged a strike at Makerere University over increment of graduation fees.
Makerere University last week announced it would, 000 to Shs220,000.
The strike, which had started calmly at around 9am became violent which forced police, led by operations commander for Kampala Metropolitan Sam Omara to fire tear gas to disperse the rowdy students.
Omara, who was visibly angry questioned Makerere's decision to increase fees saying: "Why is it only Makerere that is increasing graduation fees by such a margin? There must be subversive tendencies at this university which are meant to discredit government."
Students, who have now retreated to the university main building have said they will continue with the protest until vice chancellor, Prof Dumba Ssentamu, who is said to be locked up in a meeting with guild president Ivan Bwowe addresses them.
Last Thursday students had given the university up to Monday (today) to review graduation fees, which they say is unfair.
Makerere University, according to reports is targeting a number of innovations as it seeks to close a huge finance gap.
Recently, the university was forced to shelf a 10 per cent fees increment policy after President Museveni pledged to pay the Shs2.4b the university said was targeting to generate.
Early this year, the university reported a Shs23b deficit for its 2013/14 budget, saying management would not meet lecturers' demands to raise their emoluments.
The Makerere has since the beginning of this year, faced a number of strikes challenging key decisions by management that seeks to buttress the university's activities
Comments
comments