News
Oscar Pistorius handed five years in jail over girlfriend's murder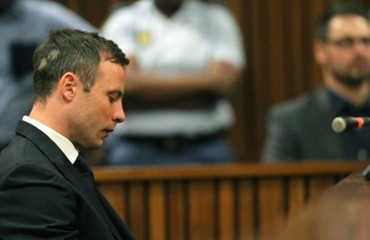 Oscar Pistorius has been jailed for five years for killing his girlfriend, however, said he is likely to serve one third of the sentence behind bars.
The 27-year-old, who was found guilty of culpable homicide last month, appeared to wipe his eyes as the sentence was handed down.
Judge Thokozile Masipa had ruled the Olympic and Paralympic athlete did not intend to kill his girlfriend when he fired through the bathroom door at his home in Pretoria, South Africa.
"Having regard to the circumstances in the matter, I am of the view that a non-custodial sentence would send the wrong message to the community," she said.
"On the other hand, a long sentence would also not be appropriate either, as it would lack the element of mercy."
"What may appear to be justice to the general public may not be justice. Society cannot always get what they want."
She said Pistorius' skill using a gun was an aggravating factor but that she also recognised his remorse.
She said he "fired not one shot but four shots into the door" of a small cubicle "with no room for escape".
He was also handed a suspended three-year prison sentence for discharging a firearm, over an incident in which a gun accidentally went off in a restaurant.
Pistorius was born in Johannesburg on November 22, 1986. A congenital condition meant he had no bones in his lower legs.
Steenkamp's father, Barry Steenkamp, said he was "satisfied" with the sentence.
Sentencing options available to the judge in the culpable homicide case included jail, a suspended sentence, a correctional supervision or a fine.
It brings to a close the sprinter's seven-month trial, which attracted worldwide attention.
One of the most sensational trials in the country's history, the sentence is expected to fuel further controversy about race and money in its justice system.
Pistorius' legal team argued during the marathon trial that he mistook Steenkamp for an intruder and believed they were both in danger.
His lawyer Barry Roux said the athlete had "lost everything" after the 29-year-old model's death, and argued he should not go to prison.
He also said the 'Blade Runner', whose lower legs were amputated as a baby, would face particular difficulties in jail.
But state prosecutor Gerrie Nel had argued that only 10 years' imprisonment would satisfy the South African public.
He said any lesser sentence could result in a widespread loss of faith in the justice system.
Comments
comments