News
How artisanal miners in Karamoja struggle to survive
Karamoja is a land of precious minerals. Previously, when someone talked about Karamoja, the economic activity that would come to mind would be pastoralism. Today, many Karimojong survive on mining minerals like gold, limestone and marble. Others are engaged in agriculture.
The turning point for Karamoja was the disarmament Programme that started in 2001. Many of the Karimojong men were cattle rustlers and taking away their guns meant that they had to adjust to a new kind of lifestyle. Disarmament led to loss of lives and animals in this area but also brought peace to the region that people started seeking alternative livelihoods other than pastoralism.
Much as Karamoja is a land of mineral wealth, her people go through a lot to get a share of what exists in their land. Compared to tin miners in Katanga, Isingiro District, who already know that African Panther Resources is their market and are contented with how much they receive for their hard work, many miners in Karamoja don't really know the value of their minerals. They are so green about who buys their gold and how much they are paid for the gold they toil to get.
Eight kilometers from Moroto town is Rupa Sub County. The still environment makes you doubt if there is any activity taking place. However, at the roadside, under the scorching sun, are two young girls of 14 to 15years working with no drop of clean water to drink.
One of them is pregnant and has a child of three or four years keeping her company. Both of them are panning for gold. The positive part of it is that unlike many others, they are not using mercury to spate gold from the ore. Mercury is linked with mental and liver problems.
In Nakabat, 30km from Moroto town, stone crashing is the order of the day. Some use rock breakers while others crush big stones on rocks. Men, women, young and old, put the crashed ore in basins and add water to separate gold from other stones.
The only way they have access to clean water is by digging holes until they get to it. However, they always have to fight for this water with wild animals especially when drought falls.
Bosco, a gold miner who joined Nakabat from Nakapiripiti says Nakabat has a lot of gold and there are many different groups operating in different areas. However, their main challenge is water. The place is dry and they only get to bathe after it rains.
Water is 7km from the mining area. Here, a 20 litre jerry can costs UGX 3000 for washing gold and water of drinking quality is 5000 a 20 litre can. They say money got from gold only helps them to survive.
"Money from mining is like that of a fisherman. You cannot invest it anywhere," Bosco said.
The local price of gold is 125000 per gram. Some miners also buy and resell it in Kamwokya, Kampala. They have their customer, an Indian known as Patel. They say they buy it at 125000 and sell to him 149000.
Vicent Lomuria, the Research and Advocacy Officer of Karamoja Development Forum, says there is sex trade for both Mercury and gold in Loluung village.
"Beautiful ladies come with mercury and trade it for gold. Miners' trade sex for mercury and others trade sex for gold," he said.
In this mining area, people use sex instead of cash to get mercury or gold.
Similarly, in Kosiroi where stone quarrying is happening for Tororo Cement Company, children stay around as their mothers work. The site attracts many employees from different corners of the country. However, stone breakers are grumbling. They say money paid to them is not worth their effort.
John Wanyama says they lack safety tools to use and they are underpaid. His plea is that the money paid per truck is increased from UGX210000 to UGX230000.
Daniel Lomongin, a father of two, usually goes to the area to help out his wife. He says they access water usually after it rains. They rarely shower and if you ask one the last time they showered, he or she will proudly answer you with "how is it your problem."
Women carry along their children to the mines as they cannot leave them home alone. When it rains, they hide under big stones and this puts their lives at risk
"Some children have been following their parents to the mines and others have been employed in stone quarrying to cut firewood for burning some of these stones," he said.
Florence Nimkaru, who joined her mother in Kosiroi at 17 because of school fees constraints, says many men have abandoned their families and failed to fulfill the responsibility of paying their children's school fees as they spend most of their money on drinking. This has forced many women and children to join the mines.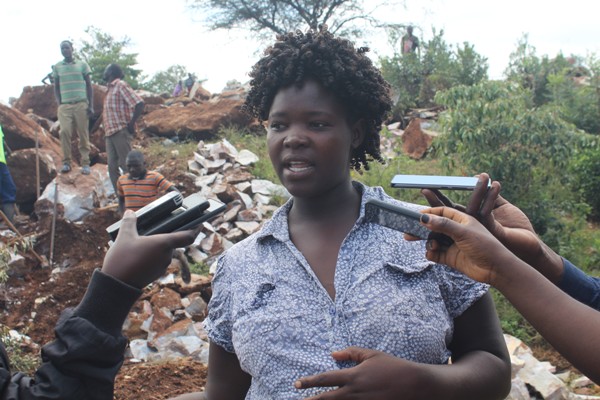 In regards to payment, David Omido, Tororo cement's Logistics and Utility Manager, said they pay their workers according to the value of mineral. However, he revealed that the plans of increasing payments are in process.
"Limestone is a common mineral like sand but people want to put it at the same value as gold or silver. It cannot work. And when you are a manufacturer in cement of course you have to work out your calculations properly so that you remain competitive," he said.
Lokiru Sisto Dodoth, the Gombolola Internal Security Organization Officer (GISO), said they have mobilized against child labor but it still exists because many families live within the mining areas.
"There are people who have settlements within the mining area and they are mining limestone. They mine just next or near their homes and sometimes you may find that even small kids are with their mothers and with their fathers when they are mining the minerals so chasing the children back is sometimes difficult," he said.
Majorly Dan Apollo, Chairman Rupa Sub County, said they have laid penalties for those practicing child labor.
If one is caught employing a minor, he or she pays UGX40, 000. The same applies to the parent or guardian of the child though the parent also serves two weeks of community service as it is stated in the bylaw on child protection and education that was passed in 2018.
Comments
comments